Multitudinous Heart: Selected Poems: A Bilingual Edition (Hardcover)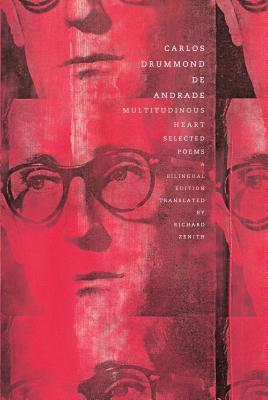 $40.00
Email or call for price.
Description
---
The most indispensable poems of Brazil's greatest poet

Brazil, according to no less an observer than Elizabeth Bishop, is a place where poets hold a place of honor. "Among men, the name of 'poet' is sometimes used as a compliment or term of affection, even if the person referred to is . . . not a poet at all. One of the most famous twentieth-century poets, Manuel Bandeira, was presented with a permanent parking space in front of his apartment house in Rio de Janeiro, with an enamelled sign POETA-although he never owned a car and didn't know how to drive." In a culture like this, it is difficult to underestimate the importance of the nation's greatest poet, Carlos Drummond de Andrade.
"World so wide, world so large, / my heart's even larger": Drummond was a master of transforming the ordinary world, through language, into the sublime. His poems--musical protests, twisted hymns, dissonant celebrations of imperfection--are transcriptions of life itself, recorded by a magnanimous outcast. As he put it in his "Seven-Sided Poem": "When I was born, one of those twisted / angels who live in the shadows said: / 'Carlos, get ready to be a misfit in life!"
Multitudinous Heart, the most generous selection of Drummond's poems available in English, gathers work from the various phases of this restless, brilliant modernist's career. Richard Zenith's authoritative selection and beautifully rendered translation bring us a more vivid and surprising poet than we knew--one of the century's greatest.
About the Author
---
Carlos Drummond de Andrade (1902-1987) was born in a small town in Minas Gerais. While he spent most of his life working as a government bureaucrat, he regarded poetry as his true vocation, and his first book was published in 1930. During six decades of writing, his work went through many phases, transcending styles and schools while being strongly influenced by modernism. Few critics or serious readers would dispute his status as Brazil's greatest poet.

Richard Zenith lived in Brazil and France before immigrating to Portugal in 1987. He has translated the poetry of Luís de Camões, Fernando Pessoa, Sophia de Mello Breyner Andresen, and João Cabral de Melo Neto.
Praise For…
---
"The quality of a poet can be determined, in part, by the writers who take the time to translate her or him. Elizabeth Bishop, Mark Strand, Gregory Rabassa, and many others have brought the Brazilian Carlos Drummond de Andrade (1902-87) to readers of English. Now Richard Zenith presents a generous selection of translations from Drummond's entire oeuvre, with the original Portuguese en face. Drummond was born in Itabira, a provincial town best known for its iron mines. After earning a pharmacology degree, he lived in cosmopolitan Rio, but his early life in the provinces left an indelible mark on his poetry. Prolific, briefly a Communist, he is the rare poet who can mention love, suffering, or both in almost every poem without sounding adolescent or false. The shortest poem in the book is 'Porcelain'-'The shards of life, glued together, form a strange teacup. // Unused, / it quietly observes us from the sideboard.' Drummond is a major poet. This volume is most welcome." —Michael Autrey, Booklist
"Readers old enough to remember Travelling in the Family, a 1986 translation of some works by the great Brazilian poet Carlos Drummond de Andrade, will remember it fondly. It featured a lively selection of the poet's work, in translations by Elizabeth Bishop, Mark Strand, Thomas Colchie, and Gregory Rabassa, and a fine, informative Introduction, and it served as the first exposure most English-language readers had to the strange, often dreamy brand of modernism Drummond's work embodies. Those readers will heartily welcome Multitudinous Heart, the generous new edition of Drummond's work from Farrar, Straus and Giroux, and readers who missed Travelling in the Family will make the acquaintance of this poet. The new volume has a much broader selection from Drummond's six decades of published work; it's presented with facing-page Portuguese and an uncredited Introduction presumably by the volume's translator, Richard Zenith . . . The translations themselves are clear as glass. Short of learning the Portuguese, this new volume is the closest monoglot readers will yet be brought to Drummond's art." —Steve Donoghue, Open Letters Monthly
"An expanded, reshuffled and welcome selection of Mr. Drummond's verse . . . In new translations by Richard Zenith, we meet a sophisticated and cerebral poet who, true to this book's title, speaks in many registers. He is by turns melancholy and ironic, sentimental and self-deprecating, remote and boyish. . . .Mr. Drummond is worth encountering on the page." —Dwight Garner, The New York Times