One Thousand Things Worth Knowing: Poems (Hardcover)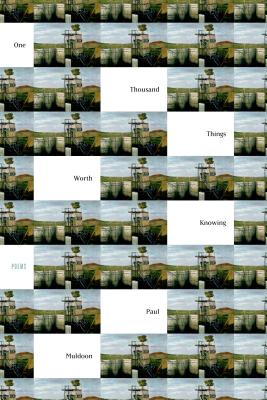 Unavailable, our apologies.
Sorry, We Can Not Obtain this Book at This Time
Description
---
Another wild, expansive collection from the eternally surprising Pulitzer Prize–winning poet

Smuggling diesel; Ben-Hur (the movie, yes, but also Lew Wallace's original book, and Seosamh Mac Grianna's Gaelic translation); a real trip to Havana; an imaginary trip to the Château d'If: Paul Muldoon's newest collection of poems, his twelfth, is exceptionally wide-ranging in its subject matter—as we've come to expect from this master of self-reinvention. He can be somber or quick-witted—often within the same poem: The mournful refrain of "Cuthbert and the Otters" is "I cannot thole the thought of Seamus Heaney dead," but that doesn't stop Muldoon from quipping that the ancient Danes "are already dyeing everything beige / In anticipation, perhaps, of the carpet and mustard factories."
If this masterful, multifarious collection does have a theme, it is watchfulness. "War is to wealth as performance is to appraisal," he warns in "Recalculating." And "Source is to leak as Ireland is to debt." Heedful, hard-won, head-turning, heartfelt, these poems attempt to bring scrutiny to bear on everything, including scrutiny itself. One Thousand Things Worth Knowing confirms Nick Laird's assessment, in The New York Review of Books, that Muldoon is "the most formally ambitious and technically innovative of modern poets," an experimenter and craftsman who "writes poems like no one else."
About the Author
---
Paul Muldoon is the author of several books of poetry, including the Pulitzer Prize–winning Moy Sand and Gravel (FSG, 2002) and, most recently, Maggot (FSG, 2010). He is the Howard G. B. Clark University Professor at Princeton.
Praise For…
---
"[Muldoon's] technical and linguistic brilliance is probably second to none; the poems are the textual equivalent of a high-wire act, with juggling." —Fran Brearton, The Guardian
"A stylish volume . . . Its elegant layout echoes almost subliminally what we have come to expect from this master of the trickster elements within language." —Fiona Sampson, The Independent
"The collection is dazzlingly complex . . . these poems show what a master Muldoon is in his own right." —Charlotte Runcie, The Telegraph
"A professor at Princeton, poetry editor at the New Yorker, rock musician and the subject of extensive critical attention, the Northern Irish poet Paul Muldoon is at the summit of a career which began in spectacular fashion with the publication of New Weather in 1973, when the poet was just twenty-one. One Thousand Things Worth Knowing, his twelfth collection, represents a consolidation rather than an extension of the elaborate and highly distinctive poetic voice he has established in the intervening four decades. His characteristic verbal hi-jinks - endless rhymes, concealed or oblique linkages and parallelisms, abrupt shifts of register, serpentine syntax, an urge to pun that borders on the pathological - provide further evidence of the poet's astounding technical gifts." —Oli Hazzard, The Times Literary Supplement
"Muldoon opens his 12th book of verse with an impressive set piece, one major Irish poet's lament for another. . . these densely worked poems are meant to be re-read. . . powerful . . .with witty pleasures and strong feelings to be unlocked and cherished." —Publishers Weekly