Impromptus: Selected Poems and Some Prose (Hardcover)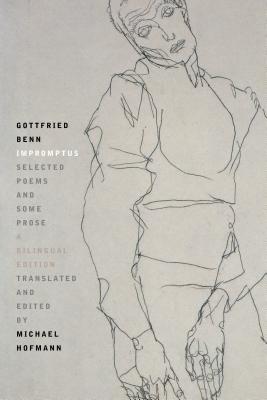 $35.00
Email or call for price.
Description
---
An extraordinary collection of poetry and prose from the master of German expressionism
The first poem in Gottfried Benn's first book, Morgue (1912)—written in an hour, published in a week, and notorious ever after—with its scandalous closing image of an aster sewn into a corpse by a playful medical student, set Benn on the path to celebrity and notoriety. And indeed, mortality, flowers, and powerful aesthetic collisions typify much of his subsequent work.
Over the decades, as Benn suffered the vicissitudes of fate (the death of his mother from cancer; the death of his first wife, Edith; his brief attempt to ingratiate himself with the Nazis, followed by their persecution of him; the suicide of his second wife, Herta), the harsh voice of the poems relented and mellowed. His later poetry—from which Impromptus is chiefly drawn, many of the poems translated into English for the first time—is deeply affecting: it reflects the routines and sorrows and meditations of an intelligent, pessimistic, and experienced man. Written in the low, unupholstered monologue of the poet talking to himself, these works are slender ribbons of speech on the naked edge of song and silence.
With this collection of poems and essays—edited and translated by the award-winning poet Michael Hofmann—Benn, at long last, promises to attain the presence and importance in the English-speaking world that he so richly deserves.
About the Author
---
Gottfried Benn
(1886–1956) earned his medical degree in 1910 and began publishing poems two years later. The leading poet of German expressionism, and the author of brilliant essays and dialogues, he spent both world wars as an officer attached to the German Medical Corps. Benn lived and practiced in Berlin, was married three times, and won the Georg Büchner Prize in 1951.
Michael Hofmann is a poet and frequent contributor to The New York Times Book Review, and is widely regarded as one of the world's foremost translators of works from German to English. He lives in London.
Praise For…
---
"Scintillating." —Alan Jenkins, The Times Literary Supplement
"Benn--along with Brecht, Celan, and Rilke--is one of the great German poets of the twentieth century, the equal of Eliot or Montale . . . And now the international reader, whose acquaintance with Beenn might have otherwise been as fragmentary as a mention in an essay by T.S. Eliot or in a poem by Frank O'Hara, can finally examine this case study with voracious comprehensiveness, owing to this virtuousic, acidic selection by the poet Michael Hofmann." —Adam Thirlwell, The New Republic
"Amid so much fake internationalism, however, it is all the more important to salute Hofmann's unimpeachable efforts for a more truly cosmopolitan understanding of poetry. Osip Mandelstam described Acmeism as 'nostalgia for world culture,' and if this phrase has any meaning today, it means work as desolately majestic and indispensable as these translations." —David Wheately, The Guardian (UK)
"In prize-winning translator Hofmann's new selected volume of Benn's work, this hugely important figure of twentieth-century German literature, curiously neglected in America, is lovingly reclaimed. Hofmann concentrates on Benn's later poems and his extraordinary prose . . . His tone is incomparable, and by means that seem almost alchemical, Hofmann has made the poems sound contemporary and idiomatic . . . This is a vital book." —Michael Autrey, Booklist
"The exactitude of imagination that characterizes Hofmann's own poetry enables him to give us this wonderful gift, a translation of these spare unornamented undeluded poems, close to the bone, suspicious of metaphor or other embellishment; truth-telling and giving pleasure as they tell their truths. These are the poems of a great poet, and Hofmann knows how that's so, and his translations let us know. Hofmann's own standards of truth-telling exactitude, and Benn's, are exemplified and celebrated here." —David Ferry, National Book Award-winning author of Bewilderment
"Who was Gottfried Benn? An inspired dermatologist . . . One of the most amazing twentieth century poets, Germany's foremost Modernist who had his moments of flirtation with Evil but emerged from it early, a victorious artist, a complicated human being. Michael Hofmann's translations promise us new shivers, new discoveries." —Adam Zagajewski, author of Unseen Hand
"This book is fantastic--because of Gottfried Benn, first of all, whose tone and temper seem both to prefigure and to pulverize the kind of reflexive 'dark irony' that our culture has come to take for granted; and secondly because of Michael Hofmann, who has managed to bring Benn's sound over into immediate English. The translations are so good, in fact, the tone so consistent, that it's almost as if a whole new poet has suddenly been added to the English canon." —Christian Wiman, author of My Bright Abyss and Every Riven Thing
"The greatest poet in the German language since Rilke, Gottfried Benn is one of the towering figures of twentieth-century poetry. In Impromptus, Michael Hofmann, our foremost translator from German, brings Benn's provocative yet profound, radically experimental, and truly visionary poems and lyrical prose fully to life, many of his expert selections translated into English for the first time. The result is a masterwork bound to challenge and transform how we look at the role of the poet, how we imagine the art of poetry itself." —Lawrence Joseph, author of Into It