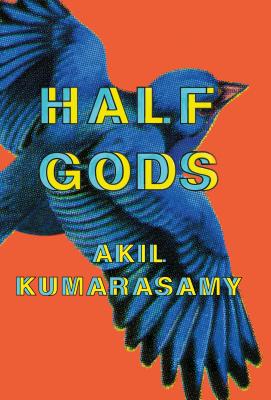 Unavailable, our apologies.
Staff Reviews
---
In this debut collection of interconnected stories, Akil Kumarasamy reminds you that we haven't crossed the borders, they crossed us. Her characters are of the exiled, displaced, and disappeared, finding refuge in each other's company. In the search for two brothers named after demigods from the Mahabharata, She weaves invisible threads that eventually create a family for all her birds. A native of New Jersey, Akil presents this book as an ode to the clandestines of the world, including her Tamil family, whose world survives through storytelling, humor, and hope.
— Mona
Description
---
A startlingly beautiful debut, Half Gods brings together the exiled, the disappeared, the seekers. Following the fractured origins and destines of two brothers named after demigods from the ancient epic the Mahabharata, we meet a family struggling with the reverberations of the past in their lives. These ten interlinked stories redraw the map of our world in surprising ways: following an act of violence, a baby girl is renamed after a Hindu goddess but raised as a Muslim; a lonely butcher from Angola finds solace in a family of refugees in New Jersey; a gentle entomologist, in Sri Lanka, discovers unexpected reserves of courage while searching for his missing son.
By turns heartbreaking and fiercely inventive, Half Gods reveals with sharp clarity the ways that parents, children, and friends act as unknowing mirrors to each other, revealing in their all-too human weaknesses, hopes, and sorrows a connection to the divine.
About the Author
---
Akil Kumarasamy is a writer from New Jersey. Her fiction has appeared in Harper's Magazine, American Short Fiction, Boston Review, and elsewhere. She received her MFA from the University of Michigan and has been a fiction fellow at the Fine Arts Work Center in Provincetown and the University of East Anglia. Half Gods is her first book.
Praise For…
---
Winner of the Story Prize Spotlight Award
A New York Times Book Review Editors' Choice
Finalist for the PEN/Robert W. Bingham Prize for Debut Short Story Collection
"This is the best thing ever in the world of books. It is so refreshing to hear a different voice, a unique perspective in the world of same same...an ability to see, observe, and navigate in a world rarely shown in the mainstream is truly an excellent skill which Akil definitely holds. To have this book on tour was gold!" —M.I.A.
"The prose itself is a marvel . . . Intimate gestures arrive like shafts of light throughout this lyrical and affecting collection, sparing us briefly from the dark." —Tania James, The New York Times Book Review
"Like family members around a dinner table, the tales in [Half Gods] support, contradict, and argue with one another. They create a rich disorder. But the disjointedness of the portrait they form also speaks to trauma: how it can interrupt both chronology and one's sense of self." —Katy Waldman, The New Yorker
"Carefully meting out the details of her character's pasts, Akil Kumarasamy's debut novel is a narrative triumph, one which manages to find and speak history from every detail of the present." —PEN America/The Strand, "Lest We Forget": A Reading List for 2018
"Kumarasamy's writing is lush and evocative, capable of wresting beauty from sadness and finding slivers of hope amidst great tragedy . . . Akil Kumarasamy has written a book for our time and our place." —Michael Patrick Brady, The Millions
"Flooded with inspired detail. Kumarasamy writes with precision, crafting prose that moves with the grace of poetry . . . A testament to Kumarasamy's talent for finding the most tender spots of the human soul." —Grace Z. Li, USA Today
"An act of audacity . . . [Akil] Kumarasamy crafts her stories with great confidence, each sentence and detail devoid of ornamentation. Her great strength is her fully rendered characters . . . With Half Gods, Kumarasamy has created the perfect piece of art for this moment in American history . . . She has created a precision experiment in interconnection and story while simultaneously evoking a sense of nostalgia for some of America's old myths." —Don Kelly, Spectrum Culture
"Kumarasamy is a shape-shifter, transitioning from the voice of a disaffected teenager watching the end of the war from afar to a lonely Angolan butcher hoping to fall in love with a kind patron. Each story connects with the others in subtle ways, offering a sense of unity between characters who often feel alone . . . Cruel and poetic lines . . . populate Kumarasamy's writing, buttressing the indignities her creations are forced to suffer with some beauty." —Alana Mohamed, The Village Voice
"Each of these stories is a fully-formed thing, ten carefully sculpted little worlds. And yet each is so deeply interlinked with its neighbors that to label this a 'collection' feels like a disservice to the wider tapestry Kumarasamy has woven. Much like Celeste Ng's Everything I Never Told You, Kumarasamy is concerned with the repressed traumas and unspoken resentments that, left alone, can pry families apart piece by piece." —Will Preston, The Masters Review
"Startling and beautiful . . . Poetic . . . Many of the lines left me startled or staring at the page, trying to soak in everything I'd just read." —Book Fifty
"Brilliant . . . A masterful combination of strong, insightful storytelling and tangential political commentary . . . The themes are as ambitious in scope as the sprawling canvas . . . [A] must-read." —Booklist (starred review)
"[Akil] Kumarasamy's prose is gorgeous and assured, capable of rendering both major tragedy (war, the dissolution of a marriage, the loss of a child) and minor tragedy (a botched effort at matchmaking, a pitying Christmas invitation) with care and precision . . . A wonderful, auspicious debut." —Publishers Weekly
"Kumarasamy writes with heart, wit, and an unflinching eye about the complexities of family, war, and finding one's home. Woven together by sentences that are at once surprising and satisfying, Half Gods spans the miles and decades that separate its characters with ease, the emotional resonance of the brothers at its core as indelible as the demigods for which they're named." —Sara Novic, author of Girl at War
"These are wonderful stories, finely poised, beautifully written, and brimming with a rare wisdom. It's a pleasure to dwell in Kumarasamy's voice. In its shallows and swells, you'll find the most delicate visions of the everyday as well as the sweeping tug of history." —Kanishk Tharoor, author of Swimmer Among the Stars
"Half Gods distills the mysteries of the human soul. In this age of displacement and sorrow, these stunning stories are reminders that even in the darkest times it is possible to write—to live—with clear-eyed compassion for others." —Ceridwen Dovey, author of Only the Animals