A Burglar's Guide to the City (Paperback)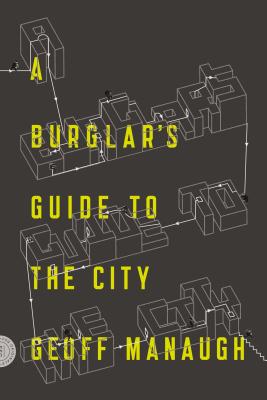 Staff Reviews
---
Manaugh's hypothesis is that burglars are the ultimate architecture critics, heists their preferred medium. LAPD's airborne division, a retired Jersey cop-turned-lockpicking-instructor, and a top-notch Las Vegas casino security specialist guide us through our collective fascination with the unauthorized use of urban space, as do movies like Rififi, Thief, Ocean's Eleven, The Bourne Identity, and Die Hard ("architectural moviemaking at its best"). Conclusion: burglars may be rascals, but who can honestly claim not to admire them?
— Cosmo
Description
---
Encompassing nearly 2,000 years of heists and tunnel jobs, break-ins and escapes, A Burglar's Guide to the City offers an unexpected blueprint to the criminal possibilities in the world all around us. You'll never see the city the same way again.

At the core of A Burglar's Guide to the City is an unexpected and thrilling insight: how any building transforms when seen through the eyes of someone hoping to break into it. Studying architecture the way a burglar would, Geoff Manaugh takes readers through walls, down elevator shafts, into panic rooms, up to the buried vaults of banks, and out across the rooftops of an unsuspecting city.

With the help of FBI Special Agents, reformed bank robbers, private security consultants, the L.A.P.D. Air Support Division, and architects past and present, the book dissects the built environment from both sides of the law. Whether picking padlocks or climbing the walls of high-rise apartments, finding gaps in a museum's surveillance routine or discussing home invasions in ancient Rome, A Burglar's Guide to the City has the tools, the tales, and the x-ray vision you need to see architecture as nothing more than an obstacle that can be outwitted and undercut.

Full of real-life heists-both spectacular and absurd-A Burglar's Guide to the City ensures readers will never enter a bank again without imagining how to loot the vault or walk down the street without planning the perfect getaway.
About the Author
---
GEOFF MANAUGH is the author of the New York Times-bestseller A Burglar's Guide to the City, as well as the architecture and technology website BLDGBLOG. He regularly writes for The New York Times Magazine, The Atlantic, The New Yorker, Wired, and many other publications. He lives in Los Angeles.
Praise For…
---
"This burglar's guide isn't for ordinary smash and grab burglars, it's for the rest of us—who like to steal in, steal out, and get away with glorious dreams. A spectacularly fun read." —Robert Krulwich, co-host of Radiolab

"Murphy's Law—anything that can go wrong will go wrong—is especially true for architecture. Geoff Manaugh's liaisons with burglars and bank robbers reveal unexplored niches and loopholes in our cities, and through the eyes of urban hackers we find new possibilities for reinterpreting the built environment. A Burglar's Guide to the City shows that architecture is too important to leave to just the architects." —Bjarke Ingels, BIG Architects

"Who knew urban studies could be so riveting? Geoff Manaugh excels at finding new, illicit, and fresh angles on a subject as loved as it is overexposed—the city. In his new book, elegant, perverse, sinuous supervillains maneuver and master the city like parkour champions. I see the TV series already." —Paola Antonelli, MoMA

"Reading Geoff Manaugh is like donning night-vision goggles at the edge of a dark forest—you are suddenly aware of, and alive to, a world that was always there but occluded. A Burglar's Guide to the City is a crackerjack intellectual caper." —Tom Vanderbilt, New York Times bestselling author of You May Also Like and Traffic

"Despite its title, Geoff Manaugh's A Burglar's Guide to the City won't teach you how to break into houses. It won't help you outsmart wily cat burglars with ingenious home alarm systems, either. Instead, it explores something a lot weirder and more interesting: Manaugh argues that burglary is built into the fabric of cities and is an inevitable outgrowth of having architecture in the first place." —Annalee Newitz, Los Angeles Times

"An exhilarating, perspective-shifting read." —Patrick Lyons, VICE

"For years, Geoff Manaugh has entertained and fascinated us with his BLDGBLOG, and now he's even better at full-length, with A Burglar's Guide to the City, a multidisciplinary, eclectic, voraciously readable book that views architecture, built environments, and cities themselves through the lens of breaking-and-entering... Manaugh's work is characteristically far-ranging and eclectic, and always fascinating... Come for the true crime, stay for the education in architecture and urban planning." —Cory Doctorow, Boing Boing

"Intriguing... a surprising and fascinating true-crime epic." —BBC

"I cannot think of a more informed, enthusiastic, and knowledgeable tour guide through the historical and contemporary intersection of burglary and architecture than Geoff Manaugh. A Burglar's Guide to the City makes disparate connections seem obvious in hindsight, and my worldview is altered a little bit more, and far for the better, as a result." —Sarah Weinman, Barnes & Noble Review

"Geoff Manaugh's A Burglar's Guide to the City gives the realm of architecture the kinetic thrills of a heist film." —Alex Bozikovic, The Globe and Mail

"Architecture blogger Geoff Manaugh's fascinating book A Burglar's Guide to The City posits that our living and working spaces, no matter how seemingly secure, are proving grounds for small-time crooks and sophisticated criminals alike; a smart thief will calibrate his routine based on the way a specific structure is designed. Manaugh's book locates the spot where architecture and crime intersect." —Marc Weingarten, The Guardian

"A compelling review of the ingenious ways that burglars negotiate the built environment—and what we can learn from their infrastructural ingenuity." —Robbie Gonzalez, Wired

"Smart, original... delirious with ideas... it's hard to argue with Manaugh's contention that burglary is 'a new science of the city, proceeding by way of shortcuts, splices, and wormholes.'" —The Boston Globe

"A Burglar's Guide to the City is a masterpiece of mad ideas, pouring out one after another. The book is one of the most enjoyable volumes of the year." —The Washington Free Beacon

"Manaugh turns the building world inside out in this fascinating view of the modern city as seen through the eyes of a potential burglar... Readers of this illuminating study will never look at the buildings and cities they live in the same way." —Publishers Weekly