Accepting the Disaster: Poems (Hardcover)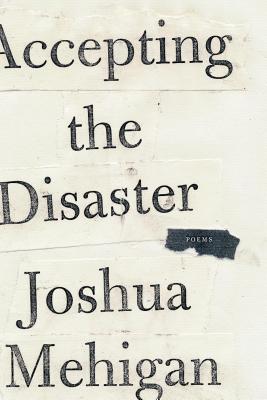 $23.00
Email or call for price.
Description
---
One of The New York Times' 10 Favorite Poetry Books of 2014

An astonishing new collection from one of our finest emerging poets
A shark's tooth, the shape-shifting cloud drifting from a smokestack, the smoke detectors that hang, ominous but disregarded, overhead—very little escapes the watchful eye of Joshua Mehigan. The poems in Accepting the Disaster range from lyric miniatures like "The Crossroads," a six-line sketch of an accident scene, to "The Orange Bottle," an expansive narrative page-turner whose main character suffers a psychotic episode after quitting medication. Mehigan blends the naturalistic milieu of such great chroniclers of American life as Stephen Crane and Studs Terkel with the cinematic menace and wonder of Fritz Lang. Balanced by the music of his verse, this unusual combination brings an eerie resonance to the real lives and institutions it evokes.
These poems capture with equal tact the sinister quiet of a deserted Main Street, the tragic grandiosity of Michael Jackson, the loneliness of a self-loathing professor, the din of a cement factory, and the saving grandeur of the natural world. This much-anticipated second collection is the work of a nearly unrivaled craftsman, whose first book was called by Poetry "a work of some poise and finish, by turns delicate and robust."
About the Author
---
Joshua Mehigan's first book, The Optimist, was a finalist for the 2005 Los Angeles Times Book Prize in Poetry. His poems have appeared in periodicals including The New Republic, The New York Times, The New Yorker, The Paris Review, and Poetry, where he has been a frequent contributor of poems and essays. His writing has also been featured on Poetry Daily and The Writer's Almanac, and in numerous anthologies. He is the recent recipient of Poetry magazine's Editor's Prize for Feature Article, and of a Fellowship from the National Endowment for the Arts. Mehigan lives in New York City.
Praise For…
---
"Mehigan is one of America's most gifted formalists, and as his title indicates, his sensibility is not a sunny one--rarely have so many people bought the farm in iambic pentameter. But this is an observation, not a criticism, and 'The Orange Bottle,' in particular, gives new life to tired compliment 'tour de force.'" —David Orr, The New York Times
"Joshua Mehigan is well known to readers who follow contemporary poets, but his Accepting the Disaster is the rare poetry book that could bring a lot of pleasure to a much broader audience. Although Mehigan is a master of formal elements, his poems also display a deep human understanding-of work, of small-town life, of mortality and suffering ? that makes them feel not just impressive but trustworthy.
" —Adam Kirsch, The New York Times Book Review
"The book I most looked forward to getting my hands on this year was Joshua Mehigan's second collection, Accepting the Disaster. This is, poem after poem, one of the best volumes of recent years. Comparisons have been made to Philip Larkin-Mehigan has a way with rhyme and meter, and his pessimism is as dark as industrial sludge. If deprivation was, for Larkin, what daffodils were for Wordsworth, for Mehigan, it's brownfields and smoke stacks. I'd add Edwin Arlington Robinson to his influences, for the deft portraits, and the first-person plural that functions both as the neighbourhood and tragic chorus." —A. E. Stallings, Times Literary Supplement
"Accepting the Disaster is a book that anyone who reads poetry should read; I suspect we will be reading it for a very long time to come." —Adam Kirsch, The New Republic
"At nearly every turn Joshua Mehigan makes the right choices-imaginatively and formally-in his exciting new collection Accepting the Disaster. And they're choices that could never be anticipated-uncanny, really, and thoroughly invigorating. Surprise and inevitability, that is the mark of a first-rate artist, and Mehigan is nothing if not that: breadth of intelligence, freshness of invention, skill at the wheel are everywhere to be found in these pages. The man's got it, in spades." —August Kleinzahler, author of Hotel Oneira
"These poems are built to last, and they will. It's the beautiful authority of the writing and its music, and of the deep disinterested pity and respect for these people and their things and places, poem after wonderful poem. The uncanny great poem 'The Sponge,' and, say, 'The Cement Plant,' 'The Polling Place' and 'The Smokestack,' and that amazing tour de force title poem are just instances, how strange, how sweet, of the mastery." —David Ferry, National Book Award-winning author of Bewilderment