Reborn: Journals and Notebooks, 1947-1963 (Hardcover)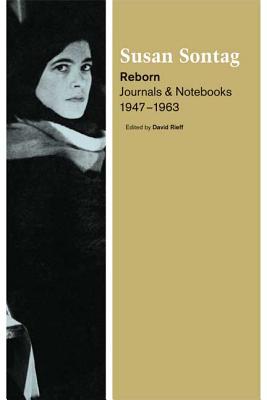 Unavailable, our apologies.
Sorry, We Can Not Obtain this Book at This Time
Staff Reviews
---
In her journals, Sontag immerses herself in literature, makes lists of self-betterment, leaves for Berkeley at 16, and accepts her lesbian tendencies. Bracing and provocative.
— Rachel
The fragmented story of the birth of a great thinker -- her internal life, her writing life, and the early rigor of her thinking. See Sontag emerge into a complex relationship with her work and her sexuality, and meet some of her greatest influences. Come away feeling not only like you know her intimately, but like you and she are not so dissimilar.
— Sarah G.
Reading writers' diaries so often feel beside-the-point, but this volume of Sontag's notebooks, following her from ages 16 to 30,  is gorgeous just as a reading experience unto itself.  You don't need to have read Sontag's essays or be deeply familiar with her work to enjoy her journals, although they will be a salve if you've ever found her work 'dry' or 'cold.' Here is the feelingsy flip-side of the intellectual, the ephemera of a genius's day-to-day. High points: Susan Sontag at 16, after just having sex for the first time, discoursing on life. Sontag at 20, married, with a two year old. Sontag in Paris, hopelessly in love with a woman who spurns her. Sontag, reading.
— Madeleine
Description
---
"I intend to do everything...to have one way of evaluating experience—does it cause me pleasure or pain, and I shall be very cautious about rejecting the painful—I shall anticipate pleasure everywhere and find it too, for it is everywhere! I shall involve myself wholly...everything matters!"
So wrote Susan Sontag in May 1949 at the age of sixteen. This, the first of three volumes of her journals and notebooks, presents a constantly and utterly surprising record of a great mind in incubation. It begins with journal entries and early attempts at fiction from her years as a university and graduate student, and ends in 1964, when she was becoming a participant in and observer of the artistic and intellectual life of New York City.
Reborn is a kaleidoscopic self-portrait of one of America's greatest writers and intellectuals, teeming with Sontag's voracious curiosity and appetite for life. We watch the young Sontag's complex self-awareness, share in her encounters with the writers who informed her thinking, and engage with the profound challenge of writing itself—all filtered through the inimitable detail of everyday circumstance.
About the Author
---
Susan Sontag
was the author of four novels, including
The Benefactor
,
Death Kit
,
The Volcano Lover
, and
In America
, which won the 2000 National Book Award for fiction; a collection of stories,
I, etcetera
; several plays, including
Alice in Bed
; and nine works of essays, among then
On Photography
, which won the National Books Critics Circle Award for criticism. In 2001, Sontag was awarded the Jerusalem Prize for the body of her work. She died in New York City in 2004.
David Rieff is a New York-based journalist and author. During the nineteen-nineties, he covered conflicts in Africa (Rwanda, Burundi, Congo, Liberia), the Balkans (Bosnia and Kosovo), and Central Asia. Now a contributing writer for the New York Times Magazine, he has written extensively about Iraq, and, more recently, about Latin America. He is the author of eight books, including Slaughterhouse: Bosnia and the Failure of the West and A Bed for the Night: Humanitarianism in Crisis. His memoir of his mother's final illness, Swimming in a Sea of Death, appeared in January 2008. Based in New York City, Rieff is currently working on a book about the global food crisis.
Praise For…
---
"What ultimately matters about Sontag . . . is what she has defended: the life of the mind, and the necessity for reading and writing as 'a way of being fully human.'" —Hilary Mantel, Los Angeles Times Book Review