Tenkō Cultures of Political Conversion in Transwar Japan (Nissan Institute/Routledge Japanese Studies) (Paperback)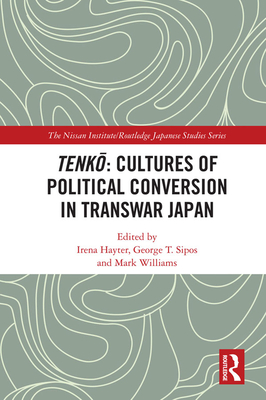 $44.95
Forthcoming - Available for Pre-Order, Check Format + Release Date
Description
---
This book approaches the concept of tenkō (political conversion) as a response to the global crisis of interwar modernity, as opposed to a distinctly Japanese experience in postwar debates.
Tenkō connotes the expressions of ideological conversion performed by members of the Japanese Communist Party, starting in 1933, whereby they renounced Marxism and expressed support for Japan's imperial expansion on the continent. Although tenkō has a significant presence in Japan's postwar intellectual and literary histories, this contributed volume is one of the first in Englishm language scholarship to approach the phenomenon. International perspectives from both established and early career scholars show tenkō as inseparable from the global politics of empire, deeply marked by an age of mechanical reproduction, mediatization and the manipulation of language. Chapters draw on a wide range of interdisciplinary methodologies, from political theory and intellectual history to literary studies. In this way, tenkō is explored through new conceptual and analytical frameworks, including questions of gender and the role of affect in politics, implications that render the phenomenon distinctly relevant to the contemporary moment.
Tenkō: Cultures of Political Conversion in Transwar Japan will prove a valuable resource to students and scholars of Japanese and East Asian history, literature and politics.
About the Author
---
Irena Hayter is Associate Professor of Japanese Studies at the University of Leeds. Her research brings together domains normally kept apart: literature, visual studies, consumer culture. The overarching concern is with the perceptual changes of the interwar years in Japan and their urban and technological contexts. Articles in positions: asia critique, Japanese Language and Literature and Japan Forum, amongst others, have explored the effects of these changes not only on cultural practices, but also on the politico-ideological domain. Her current monograph project is a media-historical investigation of urban spectacle, technologies of image commodification and literary modernism in interwar Japan. George T. Sipos is Associate Professor at the West University of Timisoara, in Romania, where he teaches Japanese literature, language and culture. His research focuses on modern and contemporary Japanese society and literature from a transcultural perspective, in particular on comparative perspectives on Japan's modernity, modern nation state, activism, and resistance against state oppression. His recent publications include 'Journeys of Political Self-Discovery: The Writings of Miyamoto Yuriko and Panait Istrati from late 1920s Soviet Russia' (Human and Social Studies, 2018), and book chapters on the works of Mishima Yukio (in Mishima Monogatari: Un samurai delle arti, 2020), Kawabata Yasunari and Akutagawa Ryūnosuke (in Critical Insights: Modern Japanese Literature, 2017). He is currently preparing his first single authored book on Japan's tenkō and tenkō literature, due to be published in 2021 by Routledge.  Mark Williams is Vice President for International Academic Exchange at International Christian University in Tokyo, Japan. Until 2017, he was Professor of Japanese Studies at the University of Leeds, UK. He received his PhD in Japanese Literature from the University of California, Berkeley. He has published widely in both English and Japanese - on themes such as Christianity and Japan, the literature of Endō Shūsaku and literary representations of the Asia Pacific War.