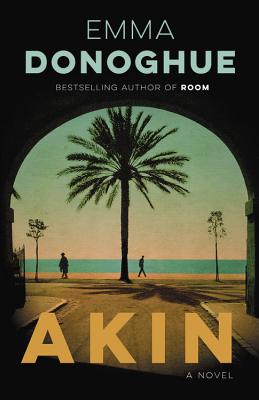 Description
---
This "soul stirring" novel by the New York Times bestselling author of Room (O Magazine) is one of the New York Post's best books of the year.
Noah Selvaggio is a retired chemistry professor and widower living on the Upper West Side, but born in the South of France. He is days away from his first visit back to Nice since he was a child, bringing with him a handful of puzzling photos he's discovered from his mother's wartime years. But he receives a call from social services: Noah is the closest available relative of an eleven-year-old great-nephew he's never met, who urgently needs someone to look after him. Out of a feeling of obligation, Noah agrees to take Michael along on his trip.
Much has changed in this famously charming seaside mecca, still haunted by memories of the Nazi occupation. The unlikely duo, suffering from jet lag and culture shock, bicker about everything from steak frites to screen time. But Noah gradually comes to appreciate the boy's truculent wit, and Michael's ease with tech and sharp eye help Noah unearth troubling details about their family's past. Both come to grasp the risks people in all eras have run for their loved ones, and find they are more akin than they knew.
Written with all the tenderness and psychological intensity that made Room an international bestseller, Akin is a funny, heart-wrenching tale of an old man and a boy, born two generations apart, who unpick their painful story and start to write a new one together.
"What begins as a larky story of unlikely male bonding turns into an off-center but far richer novel about the unheralded, imperfect heroism of two women." -- New York Times
About the Author
---
Born in Dublin in 1969, Emma Donoghue is an Irish emigrant twice over: she spent eight years in Cambridge doing a PhD in eighteenth-century literature before moving to London, Ontario, where she lives with her French partner and their two children. Her fascination with Nice developed over the two years her family have spent in that city.
She also migrates between genres, writing literary history, biography, stage and radio plays as well as fairy tales and short stories. She is best known for her novels, which range from the historical (Slammerkin, Life Mask, Landing, The Sealed Letter) to the contemporary (Stir-Fry, Hood, Landing). Her international bestseller Room was a New York Times Best Book of 2010 and was a finalist for the Man Booker, Commonwealth, and Orange Prizes. For more information, visit www.emmadonoghue.com.
Praise For…
---
"We are never too old, Donoghue reminds us, to emerge from our childish dusks. What begins as a larky story of unlikely male bonding turns into an off-center but far richer novel about the unheralded, imperfect heroism of two women -- Michael's incarcerated mother and Noah's long deceased one -- and the way we preserve the past and prepare for the future."
—
New York Times
"Soul stirring."
—
O Magazine
"Donoghue has done an excellent job of blending history with an unforgettable story of a young boy and an old man. This a book not to be missed."
—
The Missourian
"A subtle, entertaining portrait of the relationship--and friction--between age and youth."
—
The Economist
"Continuously charming."
—
Washington Post Book World