I Curse the River of Time: A Novel (Paperback)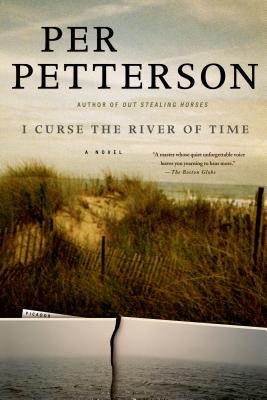 Unavailable, our apologies.
August 2010 Indie Next List
---
"Fans of Out Stealing Horses will not be disappointed by Petterson's latest novel which pulses with lyrical prose. Set against the backdrop of the collapse of Communism in 1989, the story follows Arvid, who, when his mother is diagnosed with cancer, joins her at their summer house. Shifting between the present and Arvid's memories, I Curse the River of Time explores the strained relationship between mother and son, as well as Arvid's struggle to make sense of a life that has gotten away from him."
— Natalie DelBusso, Wolfgang Books, Phoenixville, PA
Description
---
A NEW YORK TIMES BOOK REVIEW NOTABLE BOOK OF THE YEAR
It's 1989 and "three monumental events twine around one another in Arvid Jansen's penumbral soul. His fifteen-year marriage is dissolving, his mother is dying of cancer, and the Berlin Wall is tumbling down. The parallels are obvious—worlds are ending, internally and externally—but the analogies Petterson draws among these dramatic endings are not....I Curse the River of Time is a little like the starker reaches of the West, a little like the stonier shores of Maine, a little like Edward Hopper, a little like Raymond Carver....There is a quality that I can only call charm, or something like charm, to Petterson's essentially dark and lonely sensibility....It exerts a gravitational pull on the reader" (Stacey D'Erasmo, The New York Times Book Review).
About the Author
---
Per Petterson is the author of books including In the Wake, To Siberia, and I Curse the River of Time. Out Stealing Horses has won the IMPAC Dublin Literary Award, the Independent Foreign Fiction Prize and the Norwegian Booksellers' Prize. The New York Times Book Review named it one of the 10 best books of the year. A former bookseller, Petterson lives in Oslo, Norway.
Praise For…
---
"Like an emotional sucker punch...Petterson blends enough hope with the gorgeously evoked melancholy to come up with a heartbreaking and cautiously optimistic work." —The Denver Post
"Petterson's prose contains a sneaky, insidious beauty...his sentences can stop your breathing and leave tears welling up...[and] his readers will find that they're in the hands of a master whose quiet, unforgettable voice leaves you yearning to hear more." —Chuck Leddy, The Boston Globe
"I Curse the River of Time hits the mark....It's complex and rich...a subtle meditation on the long, unstoppable river of time" —Heller McAlpin, NPR's "Books We Like"
"Petterson's writing has returned to its artistic home, and what's more, returned to it with greater maturity and confidence....Here he is absolutely courageous." —Rachel Cusk, USA Today
"An emotional suckerpunch. . . . Petterson blends enough hope with the gorgeously evoked melancholy to come up with a heartbreaking and cautiously optimistic work." —Publishers Weekly, starred review
"Petterson tells another poignant, harrowing and sometimes comic story of a man coming to terms with his dying mother, his failures (job, marriage) and his failures in the eyes of his mother: 'You squirt!' But mother and son are bound by feelings and memories for which even the word 'love' doesn't do justice." —The Wall Street Journal
"All the inevitability of life, its fragile glue and the doubts that stalk the survivors are summoned and considered in Petterson's candid, allusive fiction. There is no easy sentiment, only genuine emotional power. His tender new novel is as masterfully evocative as In the Wake and Out Stealing Horses, as gentle as To Siberia, and as exceptional as all three." —The Irish Times
"Though Petterson is often compared to Hemingway and Carver, he has etched a vernacular all his own. The loveliness of his prose lies not only with its distilled nature, but also in its repetitions and unexpected cadences, which infuse his style with a tenderness unseen in other spare prose virtuosos." —The Collagist
"The atmosphere of this latest from Petterson, famed for the IMPAC Dublin Literary Award winner Out Stealing Horses, is as gray as the stark Norwegian landscape. Melancholy permeates every character like a dense Oslo fog. Yet, this author's gift is his ability to convey so much emotion in such a sparse prose style." —Library Journal, starred review
"[Petterson] offers here a kind of origami novel: time bends and folds around the characters so they are both young and old, healthy and sick, dead and alive. His considerable skill is evident in the clarity with which readers are immersed in each chapter--though we may leap backwards and forwards on the temporal plane, we never stumble or trip. . . . The final product is something important, lovely, and a bit mysterious." —Foreword Magazine
"[Petterson] deftly alternates between present and past. . . . His prose is elegant and spare." —Booklist
"[A] melancholy novel. . . . Fans--and curious newcomers--will snap it up." —Newsday