Coltrane: The Story of a Sound (Paperback)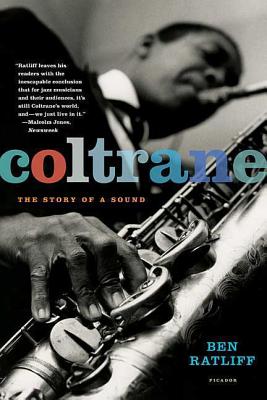 Staff Reviews
---
How do you write about a body of work as towering as Coltrane's? Ben Ratliff does so by asking two questions: How did Coltrane come to stand apart? Why does he STILL stand apart? Built around a comprehensive overview of Coltrane's career, this is a lovingly written work about one of the greatest American artists (full disclosure: my favorite artist period) and the ever-morphing body of work he produced. Download his discography and let this be your companion.
— Gleb
Description
---
John Coltrane left an indelible mark on the world, but what was the essence of his achievement that makes him so prized forty years after his death? What were the factors that helped Coltrane become who he was? And what would a John Coltrane look like now--or are we looking for the wrong signs?
In this deftly written, riveting study, New York Times jazz critic Ben Ratliff answers these questions and examines the life of Coltrane, the acclaimed band leader and deeply spiritual man who changed the face of jazz music. Ratliff places jazz among other art forms and within the turbulence of American social history, and he places Coltrane not just among jazz musicians but among the greatest American artists.
About the Author
---
Ben Ratliff has been a jazz critic at The New York Times since 1996. He is the author of The Jazz Ear and The New York Times Essential Library: Jazz. His book Coltrane: The Story of a Sound was a finalist for the National Book Critics Circle Award. He lives in Manhattan with his wife and two sons.
Praise For…
---
"Ratliff has turned me on to more music over the last few years than any other writer. . . . The listening skills of a great critic and the ability to convey what he hears are what he brings here." —R. J. Smith, Los Angeles Times
"American jazz writing needs more books like this, which engage jazz with an expansive literary imagination in a broad cultural context. . . . This is an important and rewarding book." —Down Beat
"Overheated prose seems to follow Coltrane like an insistent stream of bum notes, but Ratliff, the dauntingly omnivorous New York Times critic, manages cool restraint in this clear-eyed, nuanced consideration of the jazz giant's influence." —The Atlantic Monthly
"Brilliant, economical . . . sharp . . . [Ratliff] skillfully and convincingly places Coltrane as something of a man apart from most other musicians--a cultural comet, as much as a musical one." —Henry C. Jackson, San Francisco Chronicle