Subwayland: Adventures in the World Beneath New York (Paperback)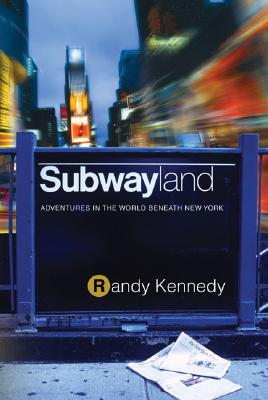 Unavailable, our apologies.
Sorry, We Can Not Obtain this Book at This Time
Description
---
Since the doors of the first subway train opened in 1904, New Yorkers and tourists alike have been fascinated, amused, amazed, repelled and bewildered by the world-within-a-world that lies beneath the city.

Now, as the subway celebrates its centennial anniversary, the creator of The New York Times's award-winning "Tunnel Vision" column leads us on an extended tour of this storied subterranean land, revealing:

* Its inhabitants: the Tango Man, the traveling magician, Mayor Bloomberg
* Its wildlife: the subway-riding pigeons, the Fulton Street cat, the blind mules
* Its customs, taboos and secret histories: door blocking, leg spreading, pole hugging, even, yes, token sucking
* Its government: the sheriff of Grand Central, the Ethel Merman of the shuttle, the motorman who drove the last No. 1 train beneath the World Trade Center on September 11, 2001
* Tips for the first-time traveler: how to get a seat, how to get a date, the fine art of "pre-walking"
About the Author
---
Randy Kennedy has been a reporter at "The New York Times" for ten years. In 2001, "Tunnel Vision" won the New York State Associated Press Association award for best column. He lives in Brooklyn and takes the R train.
Praise For…
---
"On every page of this handsomely-written collection, Randy Kennedy has taught me something new. Everything I cherish about the subways is here: the underground community of solitude, the performers, the lunatics, the sinister desperadoes, the professionals who move us through those tunnels in speed and safety, along with the abiding mysteries. If these pieces don't get the remaining subwayphobes out of their stalled autos and into the city's greatest daily marvel, nothing will."
- Pete Hamill

"...to read his notes from the underground (and the elevated) is to know that Kennedy crafts city stories on a par with the marvelous Joseph Mitchell's....he discovers Gotham at its scrappiest--the most American place in America.. A"
- Entertainment Weekly