The Essential Harold Cruse: A Reader (Paperback)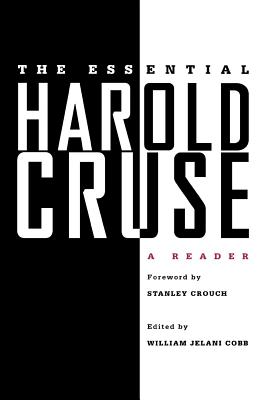 $23.99
In Stock at Publisher - Available to Ship to Your Home
Description
---
The first collection of published and unpublished work by Harold Cruse, one of America's foremost and controversial black writers.
In 1967, as the movement for civil rights was turning into a bitter, often violent battle for black power, Harold Cruse's The Crisis of the Negro Intellectual burst onto the scene. It was a lacerating attack on integration, and set the agenda for black cultural, social, and political autonomy. A classic of African American social thought, the book and its author went on to influence generations of activists, artists, and scholars.
Cruse's intelligence, independence, and breadth of vision virtually defined what it meant to be a black intellectual in modern America. In this first anthology of Cruse's writing, William Jelani Cobb provides a powerful introduction to Cruse's wide body of work, including published material such as excerpts from Crisis, as well as unpublished essays, speeches, and correspondence. The Essential Harold Cruse is certain to become standard reading for anyone interested in race in American society.
About the Author
---
William Jelani Cobb, Ph.D., a History Professor at Rutgers University, is former Associate Professor of History at Spelman College in Atlanta, and is a contributing writer for Essence magazine. His essays and reviews have appeared in The Washington Post, The Progressive, Alternet.org, and other publications. He has been a featured commentator on National Public Radio, and is the author of To The Break of Dawn: A Freestyle on the Hip Hop Aesthetic and The Devil & Dave Chappelle and Other Essays.
Praise For…
---
"The anthology of Harold Cruse's work is essential reading for anyone interested in American letters." —Robin D. G. Kelley, author of Yo' Mama's DisFunktional!: Fighting the Culture Wars in Urban America
"I enthusiastically applaud the publication of The Essential Harold Cruse...Where Malcolm X was the intellectual inspiration of Black Power and Stokely Carmichael (Kwame Turé) was its principal ideological architect, Cruse was without question its definitive critical interlocutor." —Adolph Reed, Jr., New School University
"Eloquent, passionate, forceful -- Harold Cruse has had an electrifying impact on an entire generation of African American intellectuals." —Gerald Home, author of Race Woman