Dinosaurs in the Attic: An Excursion into the American Museum of Natural History (Paperback)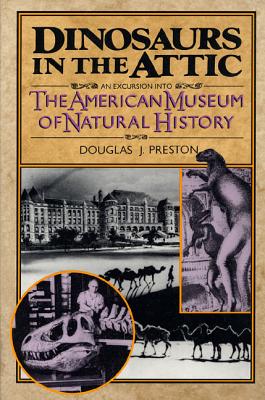 $19.99
Not On Our Shelves - Available to Order
Staff Reviews
---
Sometimes, when Stickles and I are not talking about our turtles (she puts hers in the bathtub, mine tries to eat suction cups), we talk about books. One day Stickles pressed this book into my hands and talked rapid fire, how she does. She said: "Eskimos! Getting STDs! Meteorites! On ships! Unearthed with ropes! Competitive Dinosaur Bone Digging! Murder! Intrigue! Exotic explorations!" It was not even an exaggeration. Filled with detailed stories and lively anecdotes, this book is a thorough and exciting history of one of the best museums in the world. It brings to life the eclectic personalities behind many of the exhibitions and provides a glimpse into the secret (gigantic) stash of artifacts the public is not allowed to view. Like, they have a vault full of elephant tusks and narwhal horns. They have Dumbo's skeleton. They have a whole lot of human skulls stacked on some shelves. A great choice for New Yorkers, museum aficionados, collectors, and adventurers.
— Beth
Description
---
Dinosaurs in the Attic is a chronicle of the expeditions, discoveries, and scientists behind the greatest natural history collection every assembled. Written by former Natural History columnist Douglas J. Preston, who worked at the American Museum of Natural History for seven years, this is a celebration of the best-known and best-loved museum in the United States.
About the Author
---
Douglas Preston is the co-author with Lincoln Child of the celebrated Pendergast series of novels, including such best-selling titles as Fever Dream, The Book of the Dead, The Wheel of Darkness, and Relic, which became a number one box office hit movie. His solo novels include the New York Times bestsellers Impact, Blasphemy, The Codex, and Tyrannosaur Canyon. His most recent nonfiction book, The Monster of Florence, is being made into a film starring George Clooney. Preston is an expert long-distance horseman, a member of the elite Long Riders Guild, and a Fellow of the Royal Geographical Society. He has travelled to remote parts of the world as an archaeological correspondent for The New Yorker. He also worked as an editor and writer at the American Museum of Natural History in New York and taught nonfiction writing at Princeton University. Preston is the Co-president of International Thriller Writers, and serves on the Governing Council of the Authors Guild.
Praise For…
---
"A rare treat...utterly wonderful to museum buffs." —Publishers Weekly
"Conveys the feeling of excitement and unflagging curiosity of those working behind the scenes to add to mankind's knowledge of the natural world." —Lorin Nevling, Jr., Director Emeritus, Field Museum of Natural History, Chicago
"Dinosaurs in the Attic is not just chronicle, or even history-it is literature, and a damn good read!" —Charles R. Crumly, Museum of Comparative Zoology, Harvard University
"The raucous and heroic history of one of America's best-loved museums...a beguiling book." —Chicago Tribune
"Preston writes...with breezy wit and insight." —Boston Globe
"A delightful book filled with fascinating stories, anecdotes, and personalities." —Library Journal