How Literature Saved My Life (Hardcover)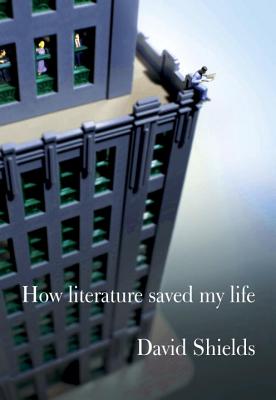 Unavailable, our apologies.
Sorry, We Can Not Obtain this Book at This Time
Description
---
"Reading "How Literature Saved My Life "is like getting to listen in on a really great, smart, provocative conversation. The book is not straightforward, it resists any single interpretation, and it seems to me to constitute nothing less than a new form." --Whitney Otto
In this wonderfully intelligent, stunningly honest, painfully funny book, acclaimed writer David Shields uses himself as a representative for all readers and writers who seek to find salvation in literature.
Blending confessional criticism and anthropological autobiography, Shields explores the power of literature (from Blaise Pascal's "PensEes "to Maggie Nelson's "Bluets, " Renata Adler's "Speedboat" to Proust's" Remembrance of Things Past") to make life survivable, maybe even endurable. Shields evokes his deeply divided personality (his "ridiculous" ambivalence), his character flaws, his woes, his serious despairs. Books are his life raft, but when they come to feel un-lifelike and archaic, he revels in a new kind of art that is based heavily on quotation and consciousness. And he shares with us a final irony: he wants "literature to assuage human loneliness, but nothing can assuage human loneliness. Literature doesn't lie about this--which is what makes it essential."
A captivating, thought-provoking, utterly original way of thinking about the essential acts of reading and writing.

About the Author
---
DAVID SHIELDS is the author of thirteen previous books, including "Reality Hunger" (named one of the best books of 2010 by more than thirty publications), "The Thing About Life Is That One Day You'll Be Dead" ("New York Times "best seller), "Black Planet" (National Book Critics Circle Award finalist), and "Remote" (winner of the PEN/Revson Award). He has published essays and stories in dozens of periodicals, including "The New York Times Magazine, Harper's, "The Village Voice, " The Yale Review, Salon, Slate," "McSweeney's, "and "The Believer. "His work has been translated into fifteen languages.
Praise For…
---
Chosen as one of the most anticipated books of 2013 by Publishers Weekly, Millions, and Flavorpill. A Salon Editor's Pick and Powell's Staff Pick.

"Here is a mind on fire, a writer at war with the page. These rigorous, high-octane, exhaustive yet taut ruminations on ambivalence, love, melancholy, and mortality are like an arrow laced with crack to the brain. [Shields'] gun-to-the-head prose explicates an all-consuming passion for reading, writing, and 'the redemptive grace of human consciousness itself."--Kristy Davis, O, The Oprah Magazine

"In this wonderful, vastly entertaining book, he weaves together literary criticism, quotations, and his own fragmentary recollections to illustrate, in form and content, how art—real art, the kind that engages and reflects the world around it—has made his life meaningful as both creator and beholder. Shields is an elegant, charming, and very funny writer. . . . Although his subject is himself, his instructions should prove useful—inspiring even—to all readers and writers."—Eugenia Wiliamson, The Boston Globe
 
"I'm grateful for How Literature Saved My Life because the book has made me think again--and for the first time in a while--'Well, what is it we do when we read?' It's a damned annoying question, but it needs to be asked now and then, and Shields has asked it in a way I find resonant and moving."--Andre Alexis, Toronton Globe and Mail

"A generation from now, when we pick up our flex-tablets or digi-goggles or whatever and read about literature at the turn of the twenty-first century, there's a decent chance we'll see it referred to as the David Shields era."--Mark Athitakis, Barnes & Noble Review

"Shields is a stunning writer. Within this book lies significant passion and revelation. . . . What makes for an amazing reading experience is the piecing together an argument from the fragments. . . . The guy is a maestro." —The Huffington Post
 
"Shields has an uncanny ability to tap into the short attention span of modern culture and turn it into something positive. . . . How Literature Saved My Life presents a way forward for literature in new forms."—Kevin McFarlandThe A.V. Club
 
"Eminently readable and surprisingly life-affirming. . . . Mr. Shields has written a great book, and one which matters. . . . Uncompromisingly intelligent, blisteringly forthright, and eschewing convention at every turn. . . . Mr. Shields is one engaging writer. His enthusiasm is contagious. He cares, deeply, about his subject."—A. J. Kirby, New York Journal of Books
 
"There is no more interesting writer at this precise moment than David Shields. I would call three of his books among the most important we've seen in the last 15 years: The Thing About Life Is That One Day You'll Be Dead, Reality Hunger: A Manifesto, and now this. His nonfiction books are as much galvanizing electrical fields as those of David Foster Wallace were."—Jeff Simon, Buffalo News, Editor's Choice
 
"Shields has composed not a paean to the glories of narrative or language, but a work that sits somewhere between essay and memoir, resisting easy expectations. . . . altogether fascinating."—Publishers Weekly, starred review
 
"Quintessential genre-defying Shields. His writing gives you [a] sense of vertigo. It's energizing and weird, and it works."—Emily Gogolak, The Village Voice
  
"Shields's ideas about literature come from a place of deep love; he's not trying to destroy but rebuild what is already broken." —Craig Hubert, ArtInfo
 
"The future? It's here."—Jeff Baker, The Oregonian
 
"I find David Shields unavoidable. A lot of that is a matter of style—I enjoy fragmentary writing, and few are more adept at it than he is."—Guy Cunningham, Bookslut
 
"Thoroughly rewarding."—David Sexton, London Evening Standard
 
"Smart, self-deprecating, and funny."—Michael Heaton, The Plain Dealer
 
"What else are you looking for that's as real and interesting as another intelligent, articulate, bibliophilic human's personal revelations?" —Wayne Alan Brenner, Austin Chronicle
 
"[One of] our most genial essayists. . . . You read [Shields] for the zip of his consciousness."—Michael Robbins, Chicago Tribune
 
"An invigorating polemicist, as well as a subtle and amusing memoirist."—Max Liu, The New Statesman (UK)
 
"Both a boldly written love note to that most precious of subjects, and David Shields's latest statute in his quest for 'art with a visible string to the world.'" —James Fitze, HTML Giant
 
"Shields has in recent years become a torchbearer of sorts for a group of contemporary writers who call for a more immediate and unmediated engagement with the reader, and who reject fiction as an obsolete craft."—Ruth Margalit, Tablet