The Sense of an Ending (Vintage International) (Paperback)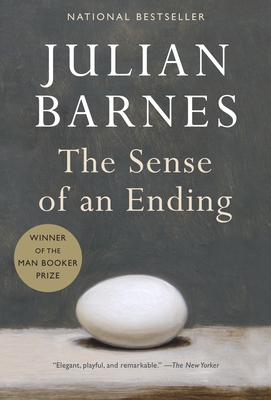 Staff Reviews
---
A meditative style meets an economy of language in a mystery narrative told by a philosophically-oriented (but clearly biased) narrator. Barnes's characters grow up but still surprise us in the end. A quick, quality read -- traditional but fresh.
— Sarah G.
Description
---
This Man Booker Prize–winning novel is now a major motion picture.

A novel so compelling that it begs to be read in a single setting, The Sense of an Ending has the psychological and emotional depth and sophistication of Henry James at his best, and is a stunning achievement in Julian Barnes's oeuvre.
 
This intense novel follows Tony Webster, a middle-aged man, as he contends with a past he never thought much about—until his closest childhood friends return with a vengeance: one of them from the grave, another maddeningly present. Tony thought he left this all behind as he built a life for himself, and his career has provided him with a secure retirement and an amicable relationship with his ex-wife and daughter, who now has a family of her own. But when he is presented with a mysterious legacy, he is forced to revise his estimation of his own nature and place in the world.
About the Author
---
Julian Barnes is the author of twenty previous books including, most recently, Keeping an Eye Open. He has received the Man Booker Prize, the Somerset Maugham Award, the Geoffrey Faber Memorial Prize, the David Cohen Prize for Literature and the E. M. Forster Award from the American Academy of Arts and Letters; in France, the Prix Médicis and the Prix Femina; and in Austria, the State Prize for European Literature. In 2004 he was named Commandeur de l'Ordre des Arts et des Lettres by the French Ministry of Culture. His work has been translated into more than forty languages. He lives in London.

www.julianbarnes.com
Praise For…
---
"Elegant, playful, and remarkable." —The New Yorker
 
"A page-turner, and when you finish you will return immediately to the beginning." —San Francisco Chronicle

"Beautiful. . . . An elegantly composed, quietly devastating tale." —Heller McAlpin, NPR
 
"Dense with philosophical ideas. . . . It manages to create genuine suspense as a sort of psychological detective story." —Michiko Kakutani, The New York Times

"Evelyn Waugh did it in Brideshead Revisited, as did Philip Larkin in Jill [and] Kazuo Ishiguro in The Remains of the Day. Now, with his powerfully compact new novel, Julian Barnes takes his place among the subtly assertive practitioners of this quiet art." —The New York Times Book Review
 
"[A] jewel of conciseness and precision…. The Sense of an Ending packs into so few pages so much that the reader finishes it with a sense of satisfaction more often derived from novels several times its length." —The Los Angeles Times
 
"Exquisitely crafted, sophisticated, suspenseful, and achingly painful, The Sense of an Ending is a meditation on history, memory, and individual responsibility." —The Philadelphia Inquirer
 
"Clever, provocative. . . . A brilliant, understated examination of memory and how it works, how it compartmentalizes and fixes impressions to tidily store away." —The Minneapolis Star-Tribune
 
"Concisely written and yet rich and full of emotional depth. . . . It's highly original as well. And complicated, just like life." —New York Journal of Books

"Elegiac yet potent, The Sense of an Ending probes the mysteries of how we remember and our impulse to redact, correct—and sometimes entirely erase—our pasts." —Vogue
 
"Ominous and disturbing….  This outwardly tidy and conventional story is one of Barnes's most indelible [and] looms oppressively in our minds." —The Wall Street Journal
 
"At 163 pages, The Sense of an Ending is the longest book I have ever read, so prepare yourself for rereading. You won't regret it." —Jane Juska, The San Francisco Chronicle
 
"With his characteristic grace and skill, Barnes manages to turn this cat-and-mouse game into something genuinely suspenseful." —The Washington Post
 
"Ferocious. . . . A book for the ages." —Cleveland Plain Dealer
 
"Concisely written and yet rich and full of emotional depth. . . . At times, side-splittingly funny, at others, brutally honest, but always delightfully well observed. . . . Ironically, despite focusing on endings, and on suicide, this is a tremendously life-affirming work. It's highly original as well. And complicated, just like life." —New York Journal of Books
 
"Elegiac yet potent, The Sense of an Ending probes the mysteries of how we remember and our impulse to redact, correct – and sometimes entirely erase – our pasts. . . . Barnes's highly wrought meditation on aging gives just as much resonance to what is unknown and unspoken as it does to the momentum of its own plot." —Vogue
 
"Novel, fertile and memorable . . . . A highly wrought meditation on aging, memory and regret." —The Guardian (London)
 
"A brilliant, understated examination of memory and how it works, how it compartmentalizes and fixes impressions to tidily store away. . . . Clever, provocative. . . . Barnes reminds his readers how fragile is the tissue of impressions we conveniently rely upon as bedrock." —Minneapolis Star-Tribune
 
"Brief, beautiful. . . . That fundamentally chilling question—Am I the person I think I am?—turns out to be a surprisingly suspenseful one. . . . As Barnes so elegantly and poignantly reveals, we are all unreliable narrators, redeemed not by the accuracy of our memories but by our willingness to question them." —The Boston Globe.
 
"Quietly mesmerizing. . . . A slow burn, measured but suspenseful, this compact novel makes every slyly crafted sentence count." —The Independent (London)
 
"Deliciously intriguing...with complex and subtle undertones [and] laced with Barnes' trademark wit and graceful writing." —The Washington Times