The Devil Finds Work (Vintage International) (Paperback)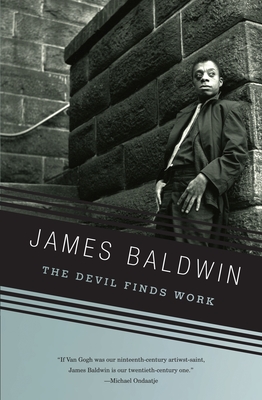 $14.00
On Our Shelves Now - Available to Ship to Your Home
Staff Reviews
---
Most of the voice-over narration of the new Baldwin doc is lifted from this, a sustained rumination on film and how it crystallizes, refracts and reproduces panic regarding race, gender and sexuality: "I doubt that Americans will ever be able to face the fact that the word, homosexual, is not a noun. The root of this word, as Americans use it - or, as this word uses Americans - simply involves a terror of any human touch, since any human touch can change you. A black man and a white man can come together only in the absence of women; which is, simply, the American legend of masculinity brought to its highest pressure, and revealed, as it were, in black and white."
— Cam
Description
---
"Probing perhaps more deeply than ever before into American racial practices." —The Nation

Baldwin's personal reflections on movies gathered here in a book-length essay are also an appraisal of American racial politics. Offering an incisive look at racism in American movies and a vision of America's self-delusions and deceptions, Baldwin challenges the underlying assumptions in such films as In the Heat of the Night, Guess Who's Coming to Dinner, and The Exorcist.

Here are our loves and hates, biases and cruelties, fears and ignorance reflected by the films that have entertained us and shaped our consciousness. And here too is the stunning prose of a writer whose passion never diminished his struggle for equality, justice, and social change.
About the Author
---
James Baldwin (1924–1987) was a novelist, essayist, playwright, poet, and social critic. His first novel, Go Tell It on the Mountain, appeared in 1953 to excellent reviews, and his essay collections Notes of a Native Son and The Fire Next Time were bestsellers that made him an influential figure in the growing civil rights movement. Baldwin spent much of his life in France, where he moved to escape the racism and homophobia of the United States. He died in France in 1987, a year after being made a Commander of the French Legion of Honor.
Praise For…
---
"If Van Gogh was our 19th-century artist-saint, James Baldwin is our 20th-century one." —Michael Ondaatje

"The best essayist in this country—a man whose power has always been in his reasoned, biting sarcasm; his insistence on removing layer by layer the hardened skin with which Americans shield themselves from their country." —The New York Times Book Review

"It will be hard for the reader to see these films in quite the same way again." —The Christian Science Monitor

"He has taken the old subject of race and made it even more personal probing perhaps more deeply than ever before into American racial practices."  —The Nation
 
"A provocative discussion." —Saturday Review