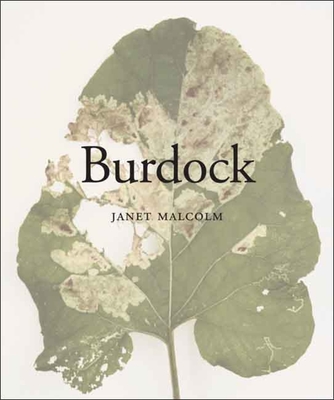 Unavailable, our apologies.
Sorry, We Can Not Obtain this Book at This Time
Description
---
In Burdock, Janet Malcolm, who has been called "the most morally illuminating literary journalist in the country," illuminates through photography her fascination with the natural world

Over the course of three summers in New England, Malcolm gathered leaves of the burdock plant, a "large rank weed" with medicinal properties "that grows along roadsides and in waste places and around derelict buildings." Influenced by Richard Avedon's unsparing portraits of famous people, Malcolm is drawn to "uncelebrated leaves" on which "life has left its mark," through the ravages of time, weather, insects, or blight. In her introduction, Malcolm reminds us that writers like Chekhov and Hawthorne have used burdock "to denote ruin and desolation." And yet, for Malcolm, Burdock is an homage to the botanical illustrators who recognized "the gorgeousness of the particulars of the things that are alive in the world."
"
Burdock
consists of a series of large color photographs portraying a single, unusual kind of leaf in various stages of growth and decay. As such, it is a work of botanical and indeed philosophical interest as well as an art book. Like all of Malcolm's work, this project entails looking with a steely but sympathetic and extremely intelligent eye at the world around her, zeroing in on the oddities that others might miss and using them as clues through which she solves the larger mystery."—Wendy Lesser
Malcolm's leaves will be shown at the Lori Bookstein Fine Arts Gallery in New York, September 9–October 11, 2008.
"Looking at natural forms close up is an exercise in awe."—Janet Malcolm
About the Author
---
Janet Malcolm is the author of many books including The Silent Woman: Sylvia Plath and Ted Hughes, Reading Chekhov: A Critical Journey, and Two Lives: Gertrude and Alice, for which she received the 2008 PEN/Jacqueline Bograd Weld Award for Biography. She writes for the New Yorker and the New York Review of Books. Her burdock leaf photographs can be seen at the Lori Bookstein Fine Art Gallery in New York City.
Praise For…
---
"Seldom has an American artist—in any genre—offered such clear-eyed images of the natural world. Skirting all the usual landscape conventions—sublime, elegiac, sentimental—Janet Malcolm has turned her wintry gaze on these most ordinary leaves, and the result is wondrous to behold. Here is the heartbreaking particularity of nature, and the ravages of time made flesh. At once clinical and poignant, these photographs changed the way I look at the green world around me."—Michael Pollan, author of The Botany of Desire: A Plant's-Eye View of the World
— Michael Pollan
"Starkly photographed against a white background, the leaves suggest Richard Avedon's austere portraits."—Rebecca Robertson, ARTnews
— Rebecca Robertson
"Elegant. . . . A marvel."—Tayt Harlin, New York Magazine
[Critic's Pick]
— Tayt Harlin
"Weird and wonderful."—Adam Begley, New York Observer
— Adam Begley
"Breathtakingly seductive, Burdock is almost as much a journey of the soul as it is of the eyes. Though [Malcolm] leaves us with only a handful of images, they linger in the mind for hours after you've closed the book. Lovely."—Art Times
— Art Times