Notes and Methods (Hardcover)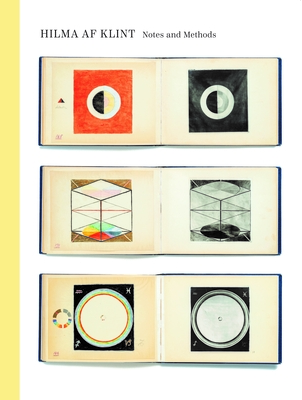 Staff Reviews
---
Swedish mystic Hilma af Klint made abstract art years before the 'start' of European abstraction, but she kept her pioneering work a secret and remained relatively unknown until now. She was interested in the occult and attended weekly seances with a tight-knit group of five women who practiced automatic drawing and writing, channeling spiritual adepts they called the High Masters. Eventually, one of these beings commissioned af Klint to complete a series of channeled abstract works between 1906 and 1917. Her paintings were essentially diagrams of spiritual revelations, with an elaborate, codified system of symbols, colors, and letters - a new visual language which she interpreted in her extensive notebooks. In Notes and Methods, they appear in full color and translated into English for the first time. Included are her interpretations of her paintings and the automatic writing and drawing she practiced with The Five. Notes and Methods is bound to be a huge resource for art historians and occultists who don't read Swedish (turns out there are a few of them), and af Klint's obscurity is soon to change. Get it and see her work at the Guggenheim in October - you won't regret it.
— Nora
Description
---
At the turn of the twentieth century, Swedish artist Hilma af Klint (1862–1944) created a body of work that left visible reality behind, exploring the radical possibilities of abstraction years before Vasily Kandinsky, Kazimir Malevich, or Piet Mondrian. Many consider her the first trained artist to create abstract paintings. With Hilma af Klint: Notes and Methods, we get to experience the arc of af Klint's artistic investigation in her own words.

Hilma af Klint studied at the Royal Swedish Academy in Stockholm where she was part of the first generation of female students.  Up until the beginning of the century, she painted mainly landscapes and detailed botanical studies. Her work from this period was that of a young artist of her time who meticulously observed the world around her. But, like many of her contemporaries, af Klint was also interested in the invisible relationships that shape our world, believing strongly in a spiritual dimension. She joined the Theosophical Society, and, with four fellow female members who together called themselves "The Five," began to study mediumship.  Between 1906 and 1915, purportedly guided by a higher power, af Klint created 193 individual works that, in both scale and scope of imagery, are like no other art created at that time.  Botanically inspired images and mystical symbols, diagrams, words, and geometric series, all form part of af Klint's abstract language. These abstract techniques would not be seen again until years later.

Notes and Methods presents facsimile reproductions of a wide array of af Klint's early notebooks accompanied by the first English translation of af Klint's extensive writings. It contains the rarely seen "Blue Notebooks," hand-painted and annotated catalogues af Klint created of her most famous series "Paintings for the Temple," and a dictionary compiled by af Klint of the words and letters found in her work. This extraordinary collection is edited by and copublished with Christine Burgin, and features an introduction by Iris Müller-Westermann. It will stand as an important and timely contribution to the legacy of Hilma af Klint.
About the Author
---
Christine Burgin is a publisher of books on art and literature.


Praise For…
---
"The remarkable, welcome thing about Burgin's Notes and Methods is that it lets af Klint speak for herself. . . . In book form, unified in size and material, and made intimate and flippable, the paintings reveal themselves differently than they do when hung on a wall and interrupted by architecture: they take on an overall rhythm, and the shifts between abstraction and figuration become fluid rather than clunky."
— New York Review of Books

"Presents comprehensive English translations of (af Klint's) enigmatic writings. . . . Bring(s) nuance to our understanding of the artist's biography and her formal achievements. . . . Taken together, the notebooks and paintings are evidence of a prodigiously curious mind, one riveted by the mathematical precision of geometry and also stirred by earthly and unearthly creatures."
— Bookforum

"What a remarkable intellectual and aesthetic feast it is! Multifaceted, rich in the history of both art and spirituality, the book presents the abstract work of Swedish artist Hilma af Klint. Klint is known for having produced abstract art many years in advance of the formal Abstract art movement. Notes and Methods not only reproduces her strikingly immersive artwork but also brings to life its unexpected spiritual underpinnings in the Theosophy movement."
 
— Publishers Weekly

"The book broadens an understanding of af Klint's visual vocabulary from the late 1800s through the first two decades of the 1900s. The dominance of images provides the reader with the breadth of her artistic concerns and some of the underlying structures in her work. The book also expounds on af Klint's myriad interests in science, mathematics, esotericism, and mysticism. Art history is only now beginning to dig deeper into af Klint's life and work. This book and the Guggenheim Museum's exhibition catalog Hilma af Klint: Paintings for the Future (2018) will be the definitive texts on the artist for years to come."
— Art Libraries Society of North America