Palace of Books (Paperback)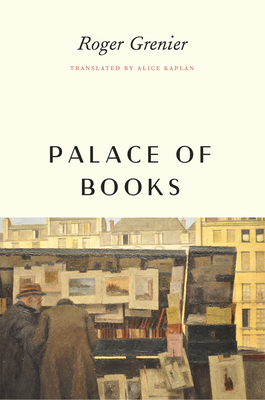 Description
---
For decades, French writer, editor, and publisher Roger Grenier has been enticing readers with compact, erudite books that draw elegant connections between the art of living and the work of art. Under Grenier's wry gaze, clichés crumble, and offbeat anecdotes build to powerful insights.

With Palace of Books, he invites us to explore the domain of literature, its sweeping vistas and hidden recesses. Engaging such fundamental questions as why people feel the need to write, or what is involved in putting one's self on the page, or how a writer knows she's written her last sentence, Grenier marshals apposite passages from his favorite writers:  Chekhov, Baudelaire, Proust, James, Kafka, Mansfield and many others. Those writers mingle companionably with tales from Grenier's half-century as an editor and friend to countless legendary figures, including Albert Camus, Romain Gary, Milan Kundera, and Brassai,.

Grenier offers here a series of observations and quotations that feel as spontaneous as good conversation, yet carry the lasting insights of a lifetime of reading and thinking. Palace of Books is rich with pleasures and surprises, the perfect accompaniment to old literary favorites, and the perfect introduction to new ones.
About the Author
---
Born in 1919, Roger Grenier is the author of more than forty books, including The Difficulty of Being a Dog and A Box of Photographs, both published by the University of Chicago Press. Alice Kaplan is the author of numerous books on France and French culture, including Dreaming in French: The Paris Years of Jacqueline Bouvier Kennedy, Susan Sontag, and Angela Davis.
Praise For…
---
"Reading Roger Grenier, you feel as if you're joining him in an inviting library, both of you seated in comfortable leather chairs and sipping calvados. He's read all the books in the room--how he has the time, you're not quite sure--and with a gentle and astounding ease, he recites countless lines from myriad texts and pieces them together into playful discussions of such grand topics as love, memory, death, and, naturally, writing. . . Subtle observations fill this slim volume, giving us a glimpse into the mind and life of this most sensitive of readers. While it may not leave you with many profound truths, I dare you not to fall in love."
— Daily Beast

"A charming series of freeform meditations. . . . An added pleasure of Grenier's essays is that, no matter how much he has read and retained, he writes of literature as an unending pursuit."
— Sam Sacks

"Readers will benefit from Grenier's wisdom expressed through his life experiences and his literary analyses. Palace of Books will amply stock the shelves of your mind."
— Colin Steele

"To anyone as well- and widely-read as Grenier … the mind itself is a 'palace of books,' and Grenier opens the door to his in this wide-ranging, impressively erudite, deceptively slender volume.… the enjoyment is in the virtuoso movement of Grenier's thought. Kaplan's translation captures the wry humor and elegant poise of prose that, like a fine wine or expensive cigar, should be allowed to linger on the tongue."
— Publishers Weekly