Raptor (Phoenix Poets) (Paperback)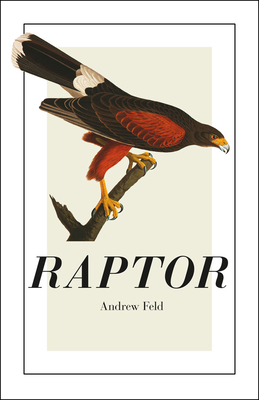 $18.00
Email or call for price.
Description
---
Raptor, the second book by the author of the widely praised Citizen, is a collection of formal poems and measured free verse unified by its investigation of our ancient poetic, mythic, and scientific fascination with birds of prey: hawks, eagles, owls, vultures, and falcons. Drawing extensively on his own experience working at a raptor rehabilitation center, along with a variety of sources ranging from medieval texts on falconry to the latest conservation studies of raptor anatomy and habitat, Andrew Feld shows these killing birds to be mirrors for humanity, as indicator species, and as highly charged figures for the intersection of that which we call "wild" and that which we think of as domesticated or domestic—and how these opposed terms apply to the imperiled natural world, to our human social relations, and to our most private, interior selves. In these poems, Feld does not shy away from either the damaging world or "the new, more comprehensive view / damage affords" in its aftermath.
About the Author
---
Andrew Feld is assistant professor in the Department of English at the University of Washington and editor in chief of the Seattle Review. He is the author of Citizen.
Praise For…
---
"A bold investigation of cruelty, Andrew Feld's
Raptor
illuminates the visceral details of the external world through electrifying, scary close encounters. . . . Feld's poetry dissects violence and imbues it with drama, provoking the reader to feel the pain of betrayal and the futility of forgiveness for something that is already lost."
— Binh Nguyen
"The precision of Feld's language, the music of his lines, and his deep attention to what is firmly grounds these poems in the actual, while simultaneously grieving—and raging, and refusing—as we let it slip away. Raptor is an awe-inspiring collection."
— Nick Flynn, author of The Ticking Is the Bomb
"With Raptor, Andrew Feld joins the very small group of writers who have written movingly and intimately about birds of prey. Like J. A. Baker in his classic memoir, The Peregrine, Feld has known, firsthand, the birds' 'deep rooted abhorrence of the human face' and remained undaunted. These beings, whose sight and hearing are so far superior to ours, whose lives, despite the uses to which we have put them, traverse our lives with utter indifference, nevertheless in turn require human beings for one purpose—to provide them with speech and song."
— Susan Stewart, Princeton University
"
Raptor
is a strange, haunting book of fiercely beautiful poems that seethe and burn with a sacred rage. Its obsessive concern is the natural world, a wildness of hawks, eagles, falcons, and kestrels that our society brutalizes with superb indifference—and the wilderness within us that is affronted and abused by a society that has no use for it. Though his images are often violent and disturbing, Feld's impeccable formal control, a match for his own edginess and fury, provides a deep delight. I read these poems at one sitting, and have returned again and again, always discovering new wonders. These are poems with claws. A must-read."
— Susan Mitchell, Florida Atlantic University