The Origins of Cool in Postwar America (Hardcover)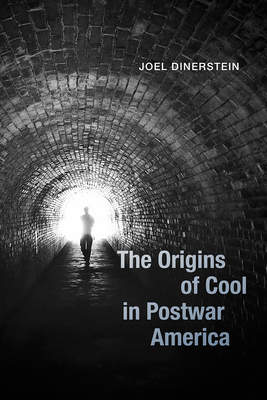 Unavailable, our apologies.
Staff Reviews
---
It's contemptible to consider definitions of "cool" in this day and age, when there are more important things to worry about. But any book examining the careers of Lorraine Hansberry (lit & social), Albert Camus (philosophy), and Lester Young (jazz), among a coterie of others, through the prism of so-called post-War cool and its socio-political ramifications, is fun and alright with me, Daddy-O.
— Doug
Description
---
Cool. It was a new word and a new way to be, and in a single generation, it became the supreme compliment of American culture. The Origins of Cool in Postwar America uncovers the hidden history of this concept and its new set of codes that came to define a global attitude and style. As Joel Dinerstein reveals in this dynamic book, cool began as a stylish defiance of racism, a challenge to suppressed sexuality, a philosophy of individual rebellion, and a youthful search for social change.

Through eye-opening portraits of iconic figures, Dinerstein illuminates the cultural connections and artistic innovations among Lester Young, Humphrey Bogart, Robert Mitchum, Billie Holiday, Frank Sinatra, Jack Kerouac, Albert Camus, Marlon Brando, and James Dean, among others. We eavesdrop on conversations among Jean-Paul Sartre, Simone de Beauvoir, and Miles Davis, and on a forgotten debate between Lorraine Hansberry and Norman Mailer over the "white Negro" and black cool. We come to understand how the cool worlds of Beat writers and Method actors emerged from the intersections of film noir, jazz, and existentialism. Out of this mix, Dinerstein sketches nuanced definitions of cool that unite concepts from African-American and Euro-American culture: the stylish stoicism of the ethical rebel loner; the relaxed intensity of the improvising jazz musician; the effortless, physical grace of the Method actor. To be cool is not to be hip and to be hot is definitely not to be cool.

This is the first work to trace the history of cool during the Cold War by exploring the intersections of film noir, jazz, existential literature, Method acting, blues, and rock and roll. Dinerstein reveals that they came together to create something completely new—and that something is cool.
About the Author
---
Joel Dinerstein was the curator of American Cool, an acclaimed exhibit at the Smithsonian's National Portrait Gallery, and the author of its accompanying catalog. He is also the author of the award-winning Swinging the Machine: Modernity, Technology, and African-American Culture and Coach: A History of New York Cool. He is a cultural historian and professor of English at Tulane University.
Praise For…
---
"In his entertaining book, . . . Dinerstein shows that cool isn't just a style, it's an 'embodied philosophy' that is anchored in a specific generational circumstance. Cool was first of all a form of resistance and rebellion, a rejection of the innocence, optimism and consumer cheeriness that marked the mainstream postwar experience."
— David Brooks

"These divisions, between white and black, Europe and America, individual and society, run through the history of cool and explain the different forms it takes and how these have evolved. . . . The history of post-war cool is both a history of these strange convergence—between French intellectuals, African American musicians and white working-class Hollywood heroes—and of the continuing conflicts between and within them. The real subject of Dinerstein's book is the debt that American culture owes to black art and style, and the way white America has responded to that debt."
— Benjamin Markovits

"Dinerstein beautifully demonstrates in this superb book . . . that cool was 'an emergent structure of feeling in postwar America.' . . . What made cool cool is the braiding together of jazz, film noir, and existential literature; the first as an African American mask of cool (poise, virtuosity and 'a blank facial wall, suggesting both a resistance to white social norms and an inner complexity'); the second, a delayed working-class response to the Great Depression (gritty but righteous loners in an unjust world); the third, an ethical expression of 'rebellion-for-others' in 1945, 'year zero' Europe after collaboration, genocide and atomic destruction."
— Times Higher Education

"Rigorously academic, The Origins of Cool is nonetheless the kind of book that makes learning enjoyable. Afterward, you'll know a lot more about the world today and where it came from. But if you're cool, you'll pretend you don't."
— Wall Street Journal

"Dinerstein traces the trajectory of the notion of American cool through the cultural milieu of the 1920s through the early 1960s, emphasizing its deep associations with jazz culture. . . . Impressively researched and broad in its reach, drawing from film, music, theater, philosophy, and literature, this book approaches the subject with scholarly authority while remaining eminently readable. Much more than just a history of cool, this book is a studied examination of the very real, often problematic social issues that popular culture responds to."
— Publishers Weekly, starred review

"The Origins of Cool vibrates with the energy of its very subject—as restrained, composed, and revitalized as the postwar rebel himself.  From the cafes of the existentialists to the bars of film noir, from Lester Young's sax to Elvis's pout, Dinerstein offers a brilliant exegesis of the simmering mode of resistance we call cool. He penetrates the meanings of a misunderstood mode—a concept, a mood, a posture—while connecting the rich details of art and culture to the deepest transformations of the postwar world. The Origins of Cool takes the elusive and inchoate and renders them clear and nearly tangible, making the reader feel this mysterious current of postwar culture as if for the first time. This is a masterwork."
— Jefferson Cowie, author of Stayin' Alive: The 1970s and the Last Days of the Working Class

"Dinerstein maps out a grand unified theory of 'cool,' as the concept that came to define the postwar era."
— New York Times Book Review

"Dinerstein approaches the notion of coolness as a theorist, historian and lover of popular culture to produce a book that synthesizes the best of all three domains. Our interpretation of cool may be emptying out, may be changing with each new generation's cultural output, but a close examination of the roots of coolness shows that as a fundamental way of being in the world, little about cool has changed."
— PopMatters

"Dinerstein has written a thoughtful and entertaining account of cool—the most powerful image of how one should be since the English gentleman dominated the world. It's a history, a handbook, and a manual, filled with fascinating accounts of those stellar individuals whose aggressively haughty, patrician coldness was rooted in hip opposition and revolt."
— John Szwed, author of Billie Holiday: The Musician and the Myth

"The Origins of Cool in Postwar America will be the standard reference for those who wish to understand the deep historical roots for coolness as a cultural style and ethos—a 'public mode of covert resistance,' an expression of faith in the integrity and agency of the individual in the face of depression, war, occupation, segregation, and the threat of nuclear annihilation—rather than as a trendy pose or an emblem of hip consumerism. Dinerstein has achieved something like a unified field theory of the postwar American arts combined with a history of ideas attached to the quest for ethical renewal and existential affirmation."
— John Gennari, author of Blowin' Hot and Cool: Jazz and Its Critics

"Dinerstein takes seriously the roots of cool. Rather than some kind of irresponsible, juvenile put-on or species of ill-earned irony, cool is shown to be a game played for the highest of stakes—personal survival in the face of the era's unconcealed racism and barbarity that gave the lie to western civilization's moral self-congratulation."
— Benjamin Cawthra, author of Blue Notes in Black and White: Photography and Jazz

"Dinerstein has assembled a gallery of mid-twentieth-century exemplars of cool to explain where the concept came from and why it has lasted."
— The Week, Book of the Week

"In his examination of what we mean when we characterize a person as cool and how and why this concept emerged, Dinerstein engagingly illuminates the complex origins of the word and how its early icons responded to create the image and persona we recognize today. . . . In the end, we have greater appreciation for the tremendous resilience and bravery of these pioneers as they navigate a compelling era—as well as the ways in which dramatic societal shifts demand that we all rise to the challenge. And gaining these insights from the thoughtful and entertaining analysis of a word is, well, cool."
— Washington Independent Review of Books