Thresherphobe (Phoenix Poets) (Paperback)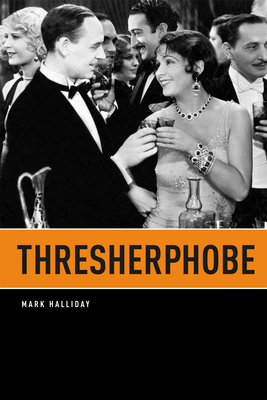 $18.00
Email or call for price.
Description
---
In his sixth collection, Mark Halliday continues to seek ways of using the smart playfulness of such poets as Frank O'Hara and Kenneth Koch to explore life's emotional mysteries—both dire and hilarious—from the perpetual dissolving of our past to the perpetual frustration of our cravings for ego-triumph, for sublime connection with an erotically idealized Other, and for peace of spirit. Animated by belief in the possible truths to be reached in interpersonal speech, Halliday's voice-driven poetry wants to find insight—or at least a stay against confusion—through personality without being trapped in personality. History will leave much of what we are on the threshing floor, Halliday notes, but in the meantime we do what we can; let posterity (if any!) say we rambled truly.

Forward Prizes for Poetry: Highly Commended for 'Classic Blunder' and 'Lois in the Sunny Tree'
About the Author
---
Mark Halliday is distinguished professor of English at Ohio University.
Praise For…
---
"A totally original, quintessentially American poet. Mark Halliday's work is forever in the pleasure section of my reading life. Sad, very funny, thoughtful, honest, lyrically and formally adventurous, Halliday's voice is whimsical-seeming and crazy-quilt on the surface; in fact, his poems tremble and reel in the fierce abrasive currents of being alive."
— Tony Hoagland

"One of Mark Halliday's poems in this new collection speaks of 'postmodern pluralism,' not a bad way to label these funny, knowing, sometimes even poignant, performances. In his scope and panache he reminds one of Whitman, but with less afflatus, more humor. Nicely resistant to solemn interpretation, Halliday's muse keeps him on the run, saluting, often outrageously but always intelligently, a world that is almost too much for us."

— William H. Pritchard