Crabgrass Frontier: The Suburbanization of the United States (Paperback)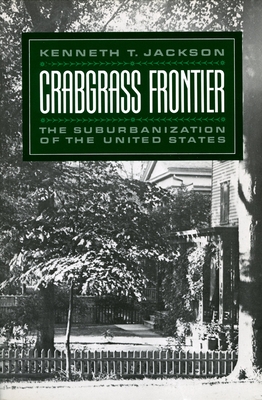 Staff Reviews
---
This history of American suburbia explores every possible angle of development, tracing customs, laws and aesthetics back to their origins in the industrial revolution, Medieval Europe and beyond. Supported by statistics, philosophical criticism, and a fascinating, detailed history of American urban development (you will look at New York differently), what emerges is a thorough portrait of how the American urban and suburban spaces we take for granted came to be. A quiet classic in the field and a must-read for understanding urbanism in America today.
 
— Gleb
Description
---
This first full-scale history of the development of the American suburb examines how the good life in America came to be equated with the a home of one's own surrounded by a grassy yard and located far from the urban workplace. Integrating social history with economic and architectural analysis, and taking into account such factors as the availability of cheap land, inexpensive building methods, and rapid transportation, Kenneth Jackson chronicles the phenomenal growth of the American suburb from the middle of the 19th century to the present day. He treats communities in every section of the U.S. and compares American residential patterns with those of Japan and Europe. In conclusion, Jackson offers a controversial prediction: that the future of residential deconcentration will be very different from its past in both the U.S. and Europe.
About the Author
---
Kenneth T. Jackson, Professor of History at Columbia University, is the author of The Ku Klux Klan in the City, 1915-1930; Cities in American History; and a number of other books.