Boots on the Ground: Troop Density in Contingency Operations (Global War on Terrorism Occational Paper #16) (Paperback)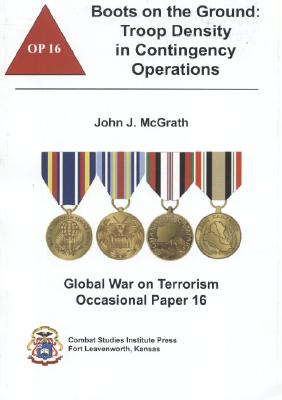 Unavailable, our apologies.
Sorry, We Can Not Obtain this Book at This Time
Description
---
NOTE: NO FURTHER DISCOUNT FOR THIS PRINT PRODUCT-- OVERSTOCK SALE -- Significantly reduced list price while supplies last

Using five historical examples of contingency operations, the Philippine Insurrection, Post-WW II Germany and Austria, Post-WWII Japan, the Malayan Emergency (British), and the Balkans conflict, the author determines key factors that affect the decision of how many soldiers should be employed in a contingency operation. He looks at geography, population density, terrain, availability and location of non-indigenous forces, and availability of indigenous or substitute forces, i.e., local police or military, or contractors. The author also studies five large metro police departments from around the United States to identify those factors that affect how many police are deployed to provide law enforcement support to communities. Many post-conflict contingency operations are more law enforcement and peacekeeping than combat. Therefore, the analysis of municipal police departments provides an overlay of factors to be considered when police actions are a part of a contingency operation.Finally, the author uses the identified set of factors based on historical examples to study the current conflict in Iraq.The number of troops on the ground in Iraq has recently been a hotly debated issue as soldiers continue to fight the insurgency in that country. This analysis is pertinent to that current conflict. While this analysis is not the panacea for determining the number of soldiers that should be present for a contingency operation, it does provide a list of factors that military analysts and planners should consider as they make their decisions.



Related products:
On Point II: Transition to the New Campaign: The United States Army in Operation Iraqi Freedom, May 2003-January 2005is available here: https: //bookstore.gpo.gov/products/sku/008-000-00989-9

Global War on Terror resources collection can be found here: https: //bookstore.gpo.gov/catalog/us-military-history/battles-wars/global-war-terror

Other products produced by the U.S. Army, Combat Studies Institute can be found here: https: //bookstore.gpo.gov/agency/1063

About the Author
---
Boston native John McGrath has worked for the United States Army in one capacity or another since 1978. A retired Army Reserve officer, Mr. McGrath served in infantry, field artillery, and logistics units, both on active duty and as a reservist. Before coming to work at the Combat Studies Institute, he worked for four years at the US Army Center of Military History in Washington, DC, as a historian and archivist. Prior to that, Mr. McGrath worked full time for the United States Army Reserve in Massachusetts for more than 15 years, both as an active duty reservist and as a civilian military technician. He also served as a mobilized reservist in 1991 in Saudi Arabia with the 22d Support Command during Operation DESERT STORM as the command historian and in 1992 at the US Army Center of Military History as a researcher and writer. Mr. McGrath is a graduate of Boston College, holds an MA in history from the University of Massachusetts at Boston, and is currently a PhD candidate at Kansas State University. He is the author of numerous articles and military history publications. He has published several books including Theater Logistics in the Gulf War published by the Army Materiel Command in 1994, The Brigade: A History published by the US Army Combat Studies Institute (CSI) in 2005; and Crossing the Line of Departure, also published by CSI in 2006. He served as the general editor of the published proceedings from CSI s 2005 Military History Symposium, An Army at War: Change in the Midst of Conflict. Aside from a general interest in things military and historical, his areas of particular interest include modern military operations, the German army in World War II, August 1914, and the Union Army in the Civil War. He also has a keen interest in ancient history, historical linguistics, the city of Boston, and baseball."