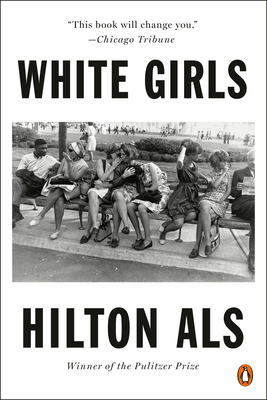 $17.00
On Our Shelves Now - Available to Ship to Your Home
Staff Reviews
---
One of the incomparable reads of the year, with great, elegiac passages and one of the most unique, considered points-of-view you'll experience. What Als appears to be getting at is taking an essence of oneself and filtering it through an otherness, an alternate perspective, through which one might find joy, personal enlightenment. It could just as well be called Black Boys (or gay black boys), Sisters, or White Men. Yes, "white girls", for sure, but also gay men, black mothers, Eminem, and Malcolm X (or his half-caucasian mother).
— Douglas
Description
---
"This book will change you." --Chicago Tribune

White Girls is about, among other things, blackness, queerness, movies, Brooklyn, love (and the loss of love), AIDS, fashion, Basquiat, Capote, philosophy, porn, Eminem, Louise Brooks, and Michael Jackson. Freewheeling and dazzling, tender and true, it is one of the most daring and provocative books of recent years, an invaluable guide to the culture of our time.
About the Author
---
Hilton Als is a Pulitzer Prize winner and a staff writer at The New Yorker. He has received numerous awards, including the New York Association of Black Journalists' first prize for Magazine/Critique/Review and Magazine Arts and Entertainment, a Guggenheim fellowship for Creative Writing, a George Jean Nathan Award for Dramatic Criticism, and the American Academy's Berlin Prize. He is an Associate Professor at Columbia University's School of the Arts, and his work has appeared in The Nation, The Believer, and New York Review of Books. He lives in New York City.
Praise For…
---
A National Book Critics Circle Award Finalist
Winner of the LAMBDA Literary Award in LGBT Nonfiction
One of the A.V. Club's Favorite Books of the Year
One of Kirkus Reviews' Best Books of 2013
 
"Als is one of the most consistently unpredictable and surprising essayists out there, an author who confounds our expectations virtually every time he writes . . . Magnificent." —David L. Ulin, Los Angeles Times
 
"Effortless, honest and fearless." —Rich Benjamin, The New York Times Book Review
 
"A comprehensive and utterly lovely collection of one of the best writers around." —Eugenia Williamson, Boston Globe
 
"Exhilarating . . . audacious." —Jan Stuart, San Francisco Chronicle
 
"The writing itself stands as the most spectacular performance . . . brilliant lunacy." —Melissa Anderson, Bookforum
 
"Als has a serious claim to be regarded as the next James Baldwin."  —Alexander Larman, The Observer (UK)
 
"[Als] deconstructs traditional hierarchies of American identity and creates kaleidoscopic portraits of these artists, and of himself." —Rachel Arons, The New Yorker 
 
"[Als's] theories are so original that they'll make you think differently about race and gender whether you're a white girl or not . . . his sharper ideas will be debated for years." ––Melissa Maerz, Entertainment Weekly
 
"This is a book that readers will want to spend the rest of their lives with: a searching, insistent, and thoroughly wise collection." —Molly McArdle, Library Journal (starred Review)
"Cultural critic Hilton Als might have written the essay collection of the year with this month's White Girls, if indeed it were merely a book of essays. Instead, each piece explores so many genres—melding fiction with fact, the deeply personal to the staid journalistic profile—that Als isn't so much playing multiples chords at once as multiple pianos . . . Als has created a work of art." —Christopher Bollen, Interview Magazine
 
"These essays defy categorization . . . This was a book I hated as much as I loved it for the incisive cultural criticism that has made me question nearly everything." —Roxane Gay, The Nation
 
"Als interweaves personal revelation with cultural touchstones, sometimes hopping from topic to topic at a breakneck speed, other times examining concepts so strategically and methodically his words become scalpels, flaying open unacknowledged bias, privilege, and conflict where he sees it." —Andrea Battleground, The A.V. Club

"I read Als not only because he is utterly extraordinary, which he is, but for the reason one is often drawn to the best writers—because one has a sense that one's life might depend on them. White Girls is a book, a dream, an enemy, a friend, and, yes, the read of the year."
—Junot Díaz