The Spy Who Came in from the Cold: A George Smiley Novel (Paperback)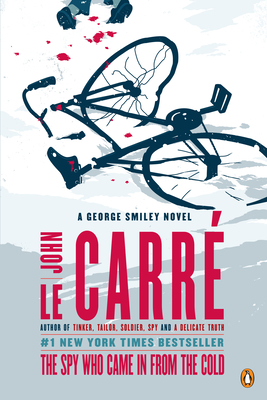 Staff Reviews
---
Protagonist Alec Leamas is a 60-year old former British Intelligence officer who, resigned and alcoholic, takes one last assignment out of sheer restlessness. Far from following a triumphant has-been-to-champ character arc, Leamas only falls deeper into the disgust and cynicism that made him quit in the first place. There are no good guys; the East Germans are antisemites and opportunists, the Brits calculating and callous; Socialism is presented as brutal and delusional, the "non-ideology" of the West as blind and hopeless. The Cold War has never felt so cold.
— Cosmo
Description
---
From the New York Times bestselling author of Tinker, Tailor, Soldier, Spy; Our Kind of Traitor; and The Night Manager, now a television series starring Tom Hiddleston.

The 50th-anniversary edition of the bestselling novel that launched John le Carré's career worldwide

In the shadow of the newly erected Berlin Wall, Alec Leamas watches as his last agent is shot dead by East German sentries. For Leamas, the head of Berlin Station, the Cold War is over. As he faces the prospect of retirement or worse—a desk job—Control offers him a unique opportunity for revenge. Assuming the guise of an embittered and dissolute ex-agent, Leamas is set up to trap Mundt, the deputy director of the East German Intelligence Service—with himself as the bait. In the background is George Smiley, ready to make the game play out just as Control wants.

Setting a standard that has never been surpassed, The Spy Who Came in from the Cold is a devastating tale of duplicity and espionage.


About the Author
---
John le Carré was born in 1931. After attending the universities of Bern and Oxford, he taught at Eton and spent five years in the British Foreign Service. The Spy Who Came In from the Cold, his third book, secured him a worldwide reputation.
Praise For…
---
"What his most satisfying about John le Carré's first great success—first of many, as it turned out—is how well it holds up on this, its 50th anniversary."—Jonathan Yardley, Washington Post

"The best spy story I have ever read."—Graham Greene

"First-rate and tremendously exciting."—Daphne du Maurier

"Le Carré is one of the best novelists—of any kind—we have."—Vanity Fair

"Written…with a pitiless, elegant clarity. The Spy who Came in from the Cold is a first-rate thriller and more."—Time