Ten White Geese: A Novel (Paperback)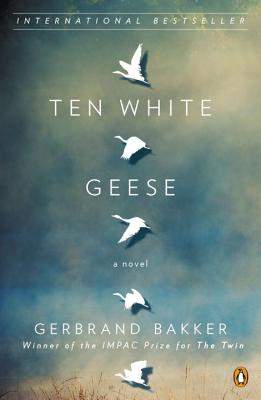 $15.00
Email or call for price.
Description
---
Have you ever wanted to disappear and make a new life for yourself where no one knows your name?
Ten White Geese
is the eagerly anticipated, internationally bestselling new novel by the winner of the world's richest literary prize for a single work of fiction. Fans of Per Petterson's
Out Stealing Horses
or Paul Harding's
Tinkers
may find in
Ten White Geese
a new novel to fall in love with.  
A woman rents a remote farm in rural Wales. She says her name is Emilie. An Emily Dickinson scholar, she has fled Amsterdam, having just confessed to an affair. On the farm she finds ten geese. One by one they disappear. Who is this woman? Will her husband manage to find her? The young man who stays the night: why won't he leave? And the vanishing geese?
Set against a stark and pristine landscape, and with a seductive blend of solace and menace, this novel of stealth intrigue summons from a woman's silent longing fugitive moments of profound beauty and compassion.
About the Author
---
Gerbrand Bakker
won the 2010 International IMPAC Dublin Literary Award for his first novel,
The Twin
. An avid gardener, he lives in Holland.
David Colmer is the translator of Bakker's novel The Twin.
Praise For…
---
Winner of the Independent Foreign Fiction Prize
"A beautiful book . . . Mysterious and sometimes menacing."
—Jacki Lyden, NPR's Weekend All Things Considered
"One of the most beautifully written novels in recent memory . . . Powerful . . . Bleak and lovely in equal measure . . . Bakker captures the gorgeous desolation of the natural world as few contemporary writers can. And he makes Agnes a compelling enigma until the last page." —
Newsday
"[An] affecting mystery . . . pocketed with meaning and subtly menacing. It moves rapidly along." —
The New Yorker
"Intense . . . Evocative and unsettling . . . Like other recent novels it slightly resembles, such as
Disgrace
by J. M. Coetzee and
Out Stealing Horses
by Per Petterson,
Ten White Geese
has the laconic texture and angular plotting of a thriller, with shifting points of view that keep the reader guessing about what surprise is lurking around the corner." —
Christopher Benfey, The New York Review of Books
"Satisfyingly enigmatic . . . Bakker establishes a steadily mounting tension via an unlikely reworking of quotidian moments [and] strange, haunting glimpses of a disrupted life. . . . Though there are moments of ominous human contact, this novel also contains wry comedy and unlikely moments of human connection. . . . Memorably surreal." —
Minneapolis Star-Tribune
"The holy writ in Dutch writer Gerbrand Bakker's novel
Ten White Geese
is the hauntingly inscrutable poetry of Emily Dickinson. . . . Everything comes at that strange Dickinsonian slant, lighting up the seemingly ordinary natural surroundings with an unearthly aura of menace." —
The Wall Street Journal
"Luckily for all of us,
Ten White Geese
takes us to authentic depths. . . . Abiding humanity runs throughout. . . . Lovely."
—The Philadelphia Inquirer
"Astonishing . . . Immensely gripping . . . The sentences follow one another with the hypnotic cadence of an incantation. . . .
Ten White Geese
raises questions of a profound nature . . . with a poise and sensitivity that is second to none." —
The Quarterly Conversation
"Quietly haunting and poignant . . . A finely crafted character study."
—World Literature Today
"Breathtakingly beautiful . . . Eerie and utterly compelling . . . There is a strain of humor here that . . . had me laughing out loud. . . . What drives this novel is a slow and sometimes menacing erotic burn. . . . [It] has much of the feel of a thriller, with a tense atmosphere that makes for a brisk, immersive read." —
Garth Greenwell, Towleroad
"Oddly gripping . . . Intriguingly crafted . . . Impressively atmospheric and a solid good read." —The Complete Review
"Luminous . . . Mysterious . . . Remarkably organic . . . Woven in many somber tones, rather like a Rothko painting . . . Bakker's language is studded with sensuality. . . . Reading this book may make you feel fantastically solitary."
—Barnes and Noble Review
"Mysterious . . . Bakker's spare prose gradually builds a sense of urgency beneath this haunting novel's deceptively placid surface." —
Publishers Weekly, starred review and Pick of the Week
"Essential reading for fans of literary fiction . . . Haunting, fearless, and heartbreaking . . . Brave and beautifully realized." —
Library Journal
"Hypnotic . . . Haunting . . . Heartbreaking . . . Vividly conjure[s] the misty, mossy landscape [and] illuminates [Emily] Dickinson's life." —
Booklist
"The exquisitely clear style of
Ten White Geese,
in this beautifully natural translation, sustains a tightly controlled and tense story as it gradually reveals itself, ever surprising and suspenseful and impossible to predict from one page to the next. A powerful, unusual, and engrossing novel." —
Lydia Davis, author of Varieties of Disturbance
 
"Ten White Geese
is unlike anything I have read. In language deceptively spare and almost excruciatingly precise, it lays at our feet a host of secrets that will not yield to waking logic. It will stretch and vex and haunt, this novel; it has the queer, ruthless beauty of a dream.
" —Leah Hager Cohen
,
author of The Grief of Others
"
I loved Gerbrand Bakker's beautiful novel
The Twin,
but nothing could have prepared me for the singular experience of reading
Ten White Geese.
 Mr. Bakker illuminates the beautiful, tragic darkness at the core of every life with a meticulously honest compassion that is both heartbreaking and revivifying. This book stopped me in my tracks, and moved me beyond words." —
Peter Cameron
,
author of Someday This Pain Will Be Useful to You
"A beautiful, oddly moving work of fiction, a quiet read that lingers long in the mind, like the ghosts that linger in our homes, and in the land around us . . . Assured and mature . . . Even more powerful [than
The Twin
]." —
John Burnside
,
The Guardian (London)
"Simple and devastating . . . Written and translated with lapidary precision, perspective, and crisp prose; there is emotion and expression, but held back from the writing, which is controlled and full of clean, physical detail."—The Independent (London)
"A novel full of hints and mysteries [that] will almost certainly keep you rooted to your chair until the dénouement."—The Spectator (London)