The Book of Disquiet (Paperback)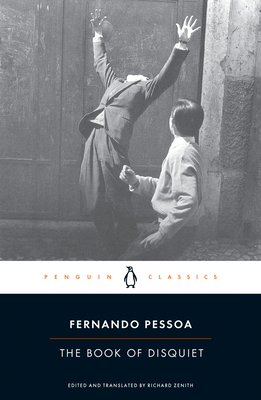 Staff Reviews
---
Though I have called New York my home for well nigh five years, I must confess, it still takes just one trip to a trendy bar full of aspiring twenty-somethings for me to feel freakish and out of place. So alien to me, the tireless self-promotion of my fellow New Yorkers! Where are all the self-doubting procratsinators who see the inevitable imperfection of any finished project? Where are the anxious loners who'd rather stay in, elaborating their interior worlds, than suffer the thousand tiny indignities of 'getting onself out there?' The nervous malcontents who double-down on their defensive fears instead of overcoming them? Where, in short, are those who just say 'no' to it all, to all of this city's self-important, self-empowerment, oh me, me, me industriousness!?? Egad, I've tired myself out. Best seek solace in The Book of Disquiet, the fragmented diary of Bernardo Soares, a clerk who does little other than go to work and return home to jot down a series of reveries and screeds against those more self-actualised than he. Sure he may live in Lisbon, but he understands better than most the ways our city can get you down.
— Matthew
Description
---
The prizewinning, complete and unabridged translation—"the best English-language version we are likely to see for a long time, if ever" (The Guardian)—of a work of unclassifiable genius: the crowning achievement of Portugal's modern master
 
Winner of the Calouste Gulbenkian Translation Prize for Portuguese Translation 

A Penguin Classic
 
Fernando Pessoa was many writers in one. He attributed his prolific writings to a wide range of alternate selves, each of which had a distinct biography, ideology, and horoscope. When he died in 1935, Pessoa left behind a trunk filled with unfinished and unpublished writings, among which were the remarkable pages that make up his posthumous masterpiece, The Book of Disquiet, an astonishing work that, in George Steiner's words, "gives to Lisbon the haunting spell of Joyce's Dublin or Kafka's Prague."
 
Published for the first time some fifty years after his death, this unique collection of short, aphoristic paragraphs comprises the "autobiography" of Bernardo Soares, one of Pessoa's alternate selves. Part intimate diary, part prose poetry, part descriptive narrative, captivatingly translated by Richard Zenith, The Book of Disquiet is one of the greatest works of the twentieth century.

"Pessoa is a genius." —André Aciman


About the Author
---
Fernando Pessoa (1888–1935) was born in Lisbon and brought up in Durban, South Africa. He returned to Lisbon in 1905. A prolific writer, ascribing his work to a variety of personas or heteronyms, Pessoa published little in his lifetime and supported himself by working as a commercial translator. Although acknowledged as an intellectual and a poet, his literary genius went largely unrecognized until after his death.
 
Richard Zenith (editor, translator) lives in Lisbon, where he works as a freelance writer, translator, and critic. His translations include Galician-Portuguese troubadour poetry; novels by Antonio Lobo Antunes; Pessoa's The Book of Disquiet; Fernando Pessoa and Co.: Selected Poems, which won the 1999 American PEN Award for Poetry in Translation; and Education by Stone: Selected Poems, which won the Academy of American Poets' Harold Morton Landon Translation Award in 2006. In 2012, he was awarded Portugal's Pessoa Prize. 
Praise For…
---
"I can't tell which of the three English-language editions of 
The Book of Disquiet
 I've read . . . most accurately conveys the style and spirit of Pessoa, but judging the English alone, Zenith's translation is most compelling. . . . I want Pessoa to be as great as the version Zenith presents." —
Chris Power, New Statesman
"A Modernist touchstone . . . no one has explored alternative selves with Pessoa's mixture of determination and abandon . . . In a time which celebrates fame, success, stupidity, convenience and noise, here is the perfect antidote, a hymn of praise to obscurity, failure, intelligence, difficulty, and silence." —
The Daily Telegraph
"His prose masterpiece . . . Richard Zenith has done an heroic job in producing the best English-language version we are likely to see for a long time, if ever." —
The Guardian
"
The Book of Disquiet
was left in a trunk which might never have been opened. The gods must be thanked that it was. I love this strange work of fiction and I love the inventive, hard-drinking, modest man who wrote it in obscurity." —
Independent
"Fascinating, even gripping stuff . . . a strangely addictive pleasure." —
Sunday Times
"Must rank as the supreme assault on authorship in modern European literature . . . readers of Zenith's edition will find it supersedes all others in its delicacy of style, rigorous scholarship and sympathy for Pessoa's fractured sensibility . . . the self-revelation of a disoriented and half-disintegrated soul that is all the more compelling because the author himself is an invention . . . Long before postmodernism became an academic industry, Pessoa lived deconstruction." —
New Statesman
"Extraordinary . . . a haunting mosaic of dreams, autobiographical vignettes, shards of literary theory and criticism and maxims."
—
The Observer
"Pessoa's rapid prose, snatched in flight and restlessly suggestive, remains haunting, often startling, like the touch of a vibrating wire, elusive and persistent like the poetry . . . there is nobody like him."
—
The New York Review of Books
"This superb edition of
The Book of Disquiet
is . . . a masterpiece."  —
The Daily Telegraph
"I plan to use this book every year in my course at Yale. Thanks for making it available."
—
K. David Jackson, Yale University