Minor Characters: A Beat Memoir (Paperback)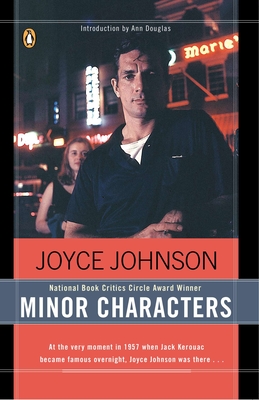 Staff Reviews
---
The female voice of the beats. When I can't write, I pick up this book and remind myself why I scuffle down Second Avenue, and why we live in New York.
— Rachel
Hey, remember how women aren't just minor characters in men's stories? Johnson's memoir is a thoughtful and fascinating literary coming of age story set in 1950s New York, as she fought against the prevailing idea that women couldn't be worthwhile writers. Johnson also happened to be dating a certain writer when his book On the Road made him famous overnight. Read this for background on the Beats if that's your thing, but also read it for Mary Karr, Yoko Ono, Hettie Jones, Joyce Maynard, and other women artists who have been cast as onlookers to a man's genius.
— Katy
Description
---
Named one of the 50 best memoirs of the past 50 years by The New York Times

Winner of the National Book Critics Circle Award

"Among the great American literary memoirs of the past century . . . a riveting portrait of an era . . . Johnson captures this period with deep clarity and moving insight." – Dwight Garner, The New York Times

In 1954, Joyce Johnson's Barnard professor told his class that most women could never have the kinds of experiences that would be worth writing about.  Attitudes like that were not at all unusual at a time when "good" women didn't leave home or have sex before they married; even those who broke the rules could merely expect to be minor characters in the dramas played by men. But secret rebels, like Joyce and her classmate Elise Cowen, refused to accept things as they were.
 
As a teenager, Johnson stole down to Greenwich Village to sing folksongs in Washington Square. She was 21 and had started her first novel when Allen Ginsberg introduced her to Jack Kerouac; nine months later she was with Kerouac when the publication of On the Road made him famous overnight. Joyce had longed to go on the road with him; instead she got a front seat at a cultural revolution under attack from all sides; made new friends like Hettie and LeRoi Jones, and found herself fighting to keep the shy, charismatic, tormented Kerouac from destroying himself.  It was a woman's adventure and a fast education in life.  What Johnson and other Beat Generation women would discover were the risks, the heartache and the heady excitement of trying to live as freely as the rebels they loved.
About the Author
---
Joyce Johnson's eight books include the 1983 National Book Critics Circle Award winner Minor Characters, the recent memoir Missing Men, the novel In the Night Cafe, and Door Wide Open: A Beat Love Affair in Letters 1957-1958 (with Jack Kerouac). She has written for Vanity Fair and The New Yorker and lives in New York City.
Praise For…
---
"This is the muse's side of the story.  It turns out the muse could write as well as anybody."
–Angela Carter
 
"This little known Beat Generation memoir uncovers the hidden female characters who played pivotal roles in the progression of the 1950's literary movement.  One can imagine how Hannah's bookish heart beats to the drum of figures like Edie Parker and Elise Cowen and Joyce Johnson."
– Lena Dunham

"Rich and beautifully written, full of vivid portraits and evocations of the major Beat voices and the minor characters, their women."
--Anne Lamott, The San Francisco Chronicle

"A first-rate memoir, very beautiful, very sad."
--E.L. Doctorow
 
"Minor Characters is, in its quiet but deliberate way, among the great American literary memoirs of the past century . . . [It] is not just about the Beats . . . in part it's a portrait of Johnson's cloistered middle-class childhood on the Upper West Side. . .Best of all, perhaps, this book charts Johnson's own career as a budding writer . . .it's a book about a so-called minor character who, in the process of writing her life, became a major one."
– Dwight Garner, The New York Times Book Review

"Joyce Johnson hands over to us the safe-deposit box that contains lost, precious scrolls of the New York '50s."
--The Washington Post