Hue and Cry: Stories (Art of the Story) (Paperback)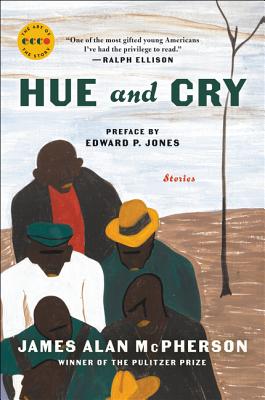 Staff Reviews
---
The gentle voice of rage and memory. He was my teacher, my mentor and my friend.
— Cheryl
Here are ten stories about the downtrodden, those unseen who fall in-between the cracks of society, written with a tenderness and mercy that can only be given by someone who themselves has been one of those people and has known their company. McPherson's debut short story collection is filled with prose as crisp, clean, and comforting as a fresh apple, with a pathos for those who are destroyed and discriminated against by the world, not explicitly but by a thousand societal paper cuts. Classic and timeless in the best sense of both of those words.
— David
Description
---
The classic debut collection from Pulitzer Prize winner James Alan McPherson

Hue and Cry is the remarkably mature and agile debut story collection from James Alan McPherson, one of America's most venerated and most original writers. McPherson's characters -- gritty, authentic, and pristinely rendered -- give voice to unheard struggles along the dividing lines of race and poverty in subtle, fluid prose that bears no trace of sentimentality, agenda, or apology.
First published in 1968, this collection includes the Atlantic Prize-winning story "Gold Coast" (selected by John Updike for the collection Best American Short Stories of the Century). Now with a new preface by Edward P. Jones, Hue and Cry introduced America to McPherson's unforgettable, enduring vision, and distinctive artistry.
About the Author
---
Pulitzer Prize winner and Guggenheim Fellow James Alan McPherson was born in Savannah, Georgia. He is a graduate of Harvard Law School and holds an MFA from the University of Iowa. In a writing career that spans forty years, McPherson has been a contributor to many publications, including The Atlantic, Esquire, and Playboy, and was the editor of Double Take magazine. He is a professor of English at the University of Iowa. He died in 2016.
Edward P. Jones, the New York Times bestselling author, has been awarded the Pulitzer Prize, for fiction, the National Book Critics Circle award, the International IMPAC Dublin Literary Award, and the Lannan Literary Award for The Known World; he also received a MacArthur Fellowship in 2004. His first collection of stories, Lost in the City, won the PEN/Hemingway Award and was short listed for the National Book Award. His second collection, All Aunt Hagar's Children, was a finalist for the Pen/Faulkner Award. He has been an instructor of fiction writing at a range of universities, including Princeton. He lives in Washington, D.C.
Praise For…
---
"A writer of insight, sympathy, and humor and one of the most gifted young Americans I've had the privilege to read."
— Ralph Ellison

"An astute realist who knows how to turn the conflicts between individual personalities and the surrounding culture into artful and highly serious comedies of manners."
— Newsweek