Have His Carcase: A Lord Peter Wimsey Mystery with Harriet Vane (Paperback)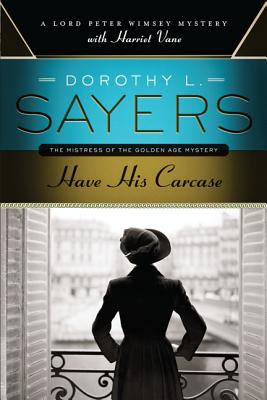 Staff Reviews
---
The first time I read this locked-room mystery--where the room is a rock on the beach at high tide--was on a cloudy beach at high tide (with a box of Cheez-Its). I remember that day very clearly, but no matter how many times I read this book I always forget the ending, which, in my opinion, is the sign of a very good mystery. Get yourself a box of Cheez-Its and read this very good mystery.
— Bekah
Description
---
"Written with distinction and wit, and is as much as psychological story as an experiment in detection. It has all the excitement which a detective story should offer." — The Spectator
The great Dorothy L. Sayers is considered by many to be the premier detective novelist of the Golden Age, and her dashing sleuth, Lord Peter Wimsey, one of mystery fiction's most enduring and endearing protagonists. Acclaimed author Ruth Rendell has expressed her admiration for Sayers's work, praising her "great fertility of invention, ingenuity, and wonderful eye for detail." The second Dorothy L. Sayers classic to feature mystery writer Harriet Vane, Have His Carcase features an introduction by Elizabeth George, herself a crime fiction master. Harriet's discovery of a murdered body on the beach before it is swept out to sea unites her once more with the indomitable Lord Peter, as together they attempt to solve a most lethal mystery, and find themselves become much closer than mere sleuthing partners in the process.

About the Author
---
Dorothy L. Sayers was born in 1893. She was one of the first women to be awarded a degree by Oxford University, and later she became a copywriter at an ad agency. In 1923 she published her first novel featuring the aristocratic detective Lord Peter Wimsey, who became one of the world's most popular fictional heroes. She died in 1957.
Praise For…
---
"A nearly perfect detective story."
— Saturday Review

"Written with distinction and wit, and is as much as psychological story as an experiment in detection. It has all the excitement which a detective story should offer."
— The Spectator

"I admire her novels. . . . She has a great fertility of invention, ingenuity and a wonderful eye for detail."
— Ruth Rendell