Fire Season: Field Notes from a Wilderness Lookout (Paperback)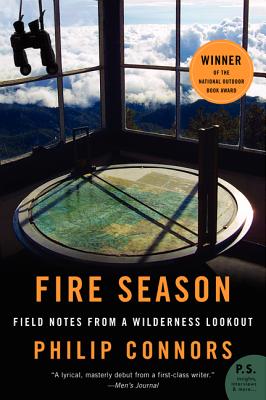 Staff Reviews
---
Following in the footsteps of Jack Kerouac, Gary Snyder, and Edward Abbey, Philip Connors spent summers working as a fire lookout, waiting in his 7' x 7' perch, 10,000 feet above sea level, watching lightning strikes and scanning the massive forest for signs of smoke. In between patrols, he pecks away at his typewriter. The result is a melodic rumination on nature, an elegy for dwindling wilderness, and a moving portrayal of human vulnerabilities.
— Beth
If you don't already want to quit your job, move out west, and post up in a lookout tower high above the forest to contemplate solitude and the wilderness (our place in it, the hubris and idiocy with which we change it), this book will make you want to do that. Be careful. 
— Sam
April 2011 Indie Next List
---
"In elegant and measured prose, Connors broadens and enriches the whole tradition of nature writing with his own unique experience in the great wilderness. As fire lookout in New Mexico's Gila National Forest, Connors takes the reader inside his own musings and reveals his intimacy with the remote area, its flora and fauna, and inevitably, with its fires. His larger purpose is to reveal the behavior of fire and its crucial role in a healthy ecosystem, as well as to examine our complex relationship with it. A graceful, memorable book."
— Marie du Vaure, Copperfield's Books, Sebastopol, CA
Description
---
"Fire Season both evokes and honors the great hermit celebrants of nature, from Dillard to Kerouac to Thoreau—and I loved it."
—J.R. Moehringer, author of The Tender Bar
"[Connors's] adventures in radical solitude make for profoundly absorbing, restorative reading."
—Walter Kirn, author of Up in the Air
Phillip Connors is a major new voice in American nonfiction, and his remarkable debut, Fire Season, is destined to become a modern classic. An absorbing chronicle of the days and nights of one of the last fire lookouts in the American West, Fire Season is a marvel of a book, as rugged and soulful as Matthew Crawford's bestselling Shop Class as Soulcraft, and it immediately places Connors in the august company of Edward Abbey, Annie Dillard, Aldo Leopold, Barry Lopez, and others in the respected fraternity of hard-boiled nature writers.

About the Author
---
Philip Connors has worked as a baker, a bartender, a house painter, a janitor, and an editor at the Wall Street Journal. His essays have appeared in n+1, Harper's, the Paris Review, and the Best American Non-required Reading anthology. He lives in New Mexico with his wife and their dog.
Praise For…
---
"[A] lyrical, masterly debut from a first-class writer."
— Men's Journal

"[A] finely, wryly, at times poetically wrought first book. . . . Connors has succeeded in weaving many stories into one [and has found] a voice and new literary life in arid terrain where I, for one, had suspected there was little new life to be found."
— New York Times Book Review

"A fine prose stylist with a splendid eye for detail, Connors allows his readers to see the natural beauty he witnesses. . . . All lovers of nature will understand the allure and wonder that Connors so gracefully describes."
— Minneapolis Star Tribune

"This is a book for all nature lovers, and more importantly, those who fail to see the beauty of the natural world. Connors' prose is so mesmerizing, so enthralling, that even the most committed city dweller will be tempted to head for a remote, quiet destination."
— Pittsburgh Tribune-Review

"[T]his is modern nature writing at its very finest."
— Daily Beast

"[R]eading this book is like taking a vacation in beautiful scenery with an observant and clever guide. So relax and enjoy."
— Lisa Ko, author of The Leavers

"Compelling and introspective, Fire Season lingers like a good poem."
— New Mexico Magazine

"Philip Connors is the typical run-of-the-mill U.S. Forest Service employee. Except, you know, he can write like hell. . . . This book is great, like Norman-Maclean-'Young-Men-and-Fire' great."
— Mountain Gazette

"[A] compelling study of isolation, wildness, and 'a vocation in its twilight'."
— The New Yorker

"[A] quietly moving love letter to a singular place. By the last page, I wanted to hike up to the tower, sip some whiskey with him and just look."
— Los Angeles Times

"[R]ife with breathtaking moments. . . . [T]o turn the last page of Fire Season is to emerge from a journey that enlightens and leaves the reader hungry for more."
— Denver Post

"Entertaining and informative. . . . Connors mixes natural, personal, and literary history in this remarkable narrative."
— New West

"This book captures all that is grand about our western wilderness."
— Vail Daily

"For those lacking the freedom, gumption or plain will power to taste such a romantic life for themselves, simply reading Connors' account sure is fun."
— Deseret News

"Fascinating. . . . Connors' narrative is crisp and accessible."
— The Tucson Citizen

"[E]ngaging. . . . [Connors] sends thoughtful word from deep in the wilderness. . ."
— Seattle Times

"A clear overview of America's shifting attitude toward its own wilderness. . . . [H]is affection is catching."
— Portland Mercury

"[A] fascinating personal narrative . . . and a poetic tribute to solitude and the natural world."
— Paris Review Daily

"[A] fascinating, pyro-charged reflection. . . . For a man so drawn to solitude, Connors has a particular knack for writing characters. . . . [Fire Season] proves a nifty way to shake off the last of winter's cold."
— Cleveland Plain Dealer

"An excellent book, an entertaining read, and a lot of food for thought. . . . Without doubt, this was the most enjoyable read I've had all year."
— National Parks Traveler

"[F]ull of wry wisdom and humor. . . . [O]ne of the best books to come out of a government gig since Ed Abbey turned a ranger's wage into Desert Solitaire."
— Outside magazine

"[C]harming. . . . [Connors is] a careful observer delighting in nature and aware of what threatens it."
— Bloomberg News

"[A]n exultant take on the natural world. . . . [Connors] describes his lookoutry with understated exuberance, an engaging and measured enthusiasm for being alone in a beautiful place."
— Nina MacLaughlin, Bookslut

"[R]uminative, lyrical, occasionally suspenseful. . . . [Fire Season] bristles with the narrative energy and descriptive precision of Annie Dillard and dovetails between elegiac introspection and a history of [Connor's] curious and lonely occupation."
— Publishers Weekly

"Print journalist and fire lookout: When it comes to paying jobs, Connors has a death wish, but he has made the very best of it."
— Kirkus Reviews

"[A] poetic, thoroughly researched, thrilling account of [Connors'] job as a fire lookout. . . . [I]lluminates the joys of solitude and the complicated nature of life in a volatile, untamable environment."
— Booklist

"Fire Season is a beautiful narrative, evoking a reverent appreciation for protecting some of nature's remaining wild places."
— San Francisco Book Review

"What a wonderful book. Philip Connors went up to the mountaintop to serve as a lookout—and he has come down with a masterwork of close observation, deep reflection, and hard-won wisdom. This is an unforgettable reckoning with the American land."
— Philip Gourevitch

"An excellent, informative, and delightful book."
— Annie Proulx

"In an age of relentless connectivity, Philip Connors is a conscientious objector. His adventures in radical solitude make for profoundly absorbing, restorative reading. The soul that learns to keep its own company, this book reminds us, can never be alone."
— WALTER KIRN, author of Up in the Air

"FIRE SEASON is an urgent, clear, bright book; it is both lyrical enough to arrest breath and absolutely compelling, reminding us why we need fire, solitude, wilderness. Find room on your bookshelf next to Wallace Stegner and Norman Maclean; Philip Connors is here to stay."
— Alexandra Fuller

"Philip Connors's remarkable account of his seasons as a fire lookout in the Gila National Forest in New Mexico is enlightening and well-informed. The surprise in the book is the author's willingness—his courage, actually—to examine his own naïveté about the natural world. His is a most welcome new voice."
— Barry Lopez

"Philip Connors has crafted a book illumined by the gob-smacked, wide-eyed, inquisitional wonder at creation. . . . Fire Season is for pilgrims, pedestrians, hikers and anchorites, city dwellers, and solitary sorts: a treat for the senses, fit for the long haul. Bravo!
— Thomas Lynch, author of The Undertaking

"FIRE SEASON is enlightening and well-informed...and Philip Connors is a most welcome new voice."
— Barry Lopez

"[A] stunning gift of a memoir. . . . [A] profound (and at times hilariously profane) perspective on the relationship between humans and the earth. . . . Passionate and funny, Fire Season is an exciting new addition to the canon of American nature writing."
— BookPage

"[A]n engaging and highly readable mix of wilderness reflection, ode to solitude, and reasoned assault on forestry techniques."
— AARP Magazine