Country Driving: A Journey Through China from Farm to Factory (Hardcover)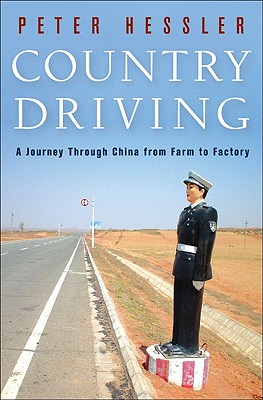 Unavailable, our apologies.
Description
---
"Hessler has a marvelous sense of the intonations and gestures that give life to the moment." —The New York Times Book Review
From Peter Hessler, the New York Times bestselling author of Oracle Bones and River Town, comes Country Driving, the third and final book in his award-winning China trilogy. Country Driving addresses the human side of the economic revolution in China, focusing on economics and development, and shows how the auto boom helps China shift from rural to urban, from farming to business.
About the Author
---
Peter Hessler is a staff writer at The New Yorker, where he served as the Beijing correspondent from 2000 to 2007, and is also a contributing writer for National Geographic. He is the author of River Town, which won the Kiriyama Prize; Oracle Bones, which was a finalist for the National Book Award; and, most recently, Country Driving. He won the 2008 National Magazine Award for excellence in reporting, and he was named a MacArthur Fellow in 2011. He lives in Cairo.
Praise For…
---
"A fascinating road trip through a land in transition. . . . Hessler's description of China's new drivers is hilarious. . . . Country Driving tells us as much about contemporary China even when Hessler is not on the road."
— The Christian Science Monitor

"The best yet from Peter Hessler, whose two earlier books, River Town and Oracle Bones, were exemplary forays into the genre. . . . Told with his characteristic blend of empathy, insight, and self-deprecating humor."
— Time

"Peter Hessler, a modern Marco Polo crossing China in a rented Jeep Cherokee, has witnessed signs and wonders worthy of a Coen brothers film. . . . Every so often, I read a book that upends my perceptions about a place. This is one of them."
— Bloomberg News

"Hessler has made a career of interpreting contemporary China and, for my money, nobody does it better. . . . Hessler is a magnificent guide to this largely uncharted territory, witty, insightful, keenly aware of the ironies of this communist-capitalist society."
— The Minneapolis Star Tribune

"If you want to understand today's China, and the forces changing it, you need to read Country Driving."
— The Huffington Post

"Hessler is a keen observer of mind-catching details and an engaging storyteller. . . . Full of exotic detail, solid reporting, and ironic observation, Country Driving offers a personal snapshot of the world's second superpower hurtling through the 21st century."
— The Boston Globe

"Lively. . . . Engaging. . . . Hessler sets out with some suspect maps and a great deal of bravado. . . . He shows the effects China's ever expanding network of roads exerts on individual lives. . . . Hessler [has an] irresistible urge to follow a story."
— The New York Times Book Review

"Delightful. . . . Epic. . . . The reporting in Country Driving is impressive in its scope. . . . Hessler delivers eloquent disquisitions on everything from how to buy a used car in China to the history of the Mongol conquest."
— Dwight Garner, The New York Times

"Hessler's genius has always been in his wry commentary and ability to transcribe the rhythms of his environment onto the page. . . . From this cast of thousands emerges a picture of great hopes tinged with sadness at what is being cast aside without second thought."
— The Wall Street Journal

"Extraordinary. . . . Country Driving, like Hessler's previous works, tells the story of China's transformation powerfully and poetically."
— The Economist

"Exceptionally moving. . . . Hilarious. . . . An absolutely terrific book, at once highly entertaining and deeply instructive. . . . Country Driving is a wonderful book about China that also happens to be a terrific book about the human race.
— Jonathan Yardley, The Washington Post
Coverage from NPR