The Times History of Britain's Railways: From 1603 to the Present Day (Hardcover)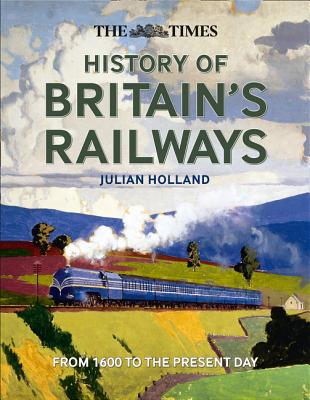 Unavailable, our apologies.
Description
---
Follow the development, decline, and later revival of Britain's iconic railways with bestselling railway author Julian Holland. Discover their remarkable history through expert commentary, stunning photographs, and archive material from a lifetime of railway research. The iconic railways of Britain have seen unprecedented change and innovation in just a few hundred years, shaping Britain's industry, society, and transport system along the way. Discover the historic events that have shaped Britain's railways.

Highlights include:
• 1604: The beginnings of the railways—Wollaton Waggonway opens in Nottinghamshire
• 1830: Britain becomes connected—the world's first inter-city railway, the Liverpool & Manchester Railway, opens
• 1938: A world leader in train travel—the LNER 'A4' 'Mallard' sets a still unbroken world speed record for steam locomotives
• 1963: 'Beeching Report' published—marked the death sentence for many rural lines
• 2015: Borders Railway reopens between Edinburgh and Tweedbank—marks a modern-day revival for the railways
About the Author
---
Julian Holland is a writer and photographer on many railway books, including the highly acclaimed and award winning The Times Mapping the Railways, Exploring Britain's Lost Railways, and Great Railway Journeys of the World.